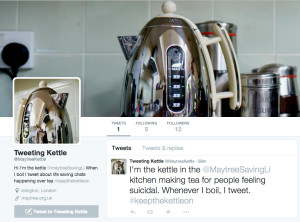 Cheil UK has launched a campaign today that harnesses the power of a tweeting kettle, to support and boost donations for the charity Maytree, who care for people in a suicidal crisis.
The kettle has been specially adapted so that each time it is turned on, a sensor within the kettle will publish a tweet, indicating that a new 'befriending' session has started in the Maytree respite centre.
The tweets, which will read as if they have come from the kettle, will offer a point of view of life at Maytree via humorous and poignant updates to raise awareness of the charity's work and increase donations from its current supporters. The kettle is positioned as being on a mission to save lives, one cup of tea at a time.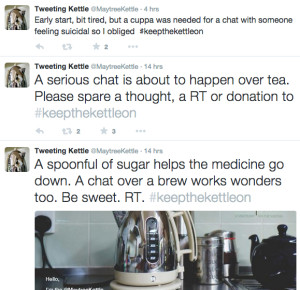 Cheil UK developed the idea, taking inspiration from the comforting feeling we all get when we share a cup of tea and have a chat. The tweets will be shared via the Maytree Twitter account: @MaytreeKettle, asking its followers to donate here.
Maytree offers a sanctuary for people in suicidal crisis, providing a safe and peaceful place for them to talk, rest and reflect. The service includes 24-hour support and the opportunity to talk through thoughts with 'befrienders' and other guests. The service has made a big difference to the lives of many people.
Natalie Howarth, director of Maytree said: "Cheil UK came to us with this smart, innovative idea, and we loved it. Suicide rates, particularly among men, are at their highest point in many years, so the service we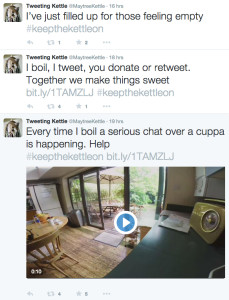 provide is needed now more than ever. Cheil UK has devised a clever way of highlighting our work with our clients – and we're sure it will boost donations to Maytree from our existing and new supporters."
Matt Pye, chief operating officer at Cheil UK, said: "Talking is the single most powerful thing you can do with someone feeling suicidal. Sessions at Maytree always start with a cup of tea, and you can't have a cup of tea without a kettle. This led us to the idea of the tweeting kettle, which will live tweet humorous messages, as well as tweets about the charity's work indicating the good work being done. Maytree is our chosen agency charity, and we're hoping that this project will be a great opportunity to publicise the life-saving work that it does on a daily basis."