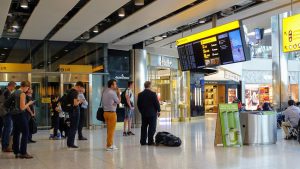 In the UK alone, over seven million disposable coffee cups are used every day. This equates to over 2.5 billion single-use coffee cups being used and thrown away, every year.
Now, Costa Coffee are working toward the ambition of recycling 100 million takeaway cups in the next year, and 500 million cups by 2020 – enlisting Ogilvy's behavioural science practice under Ogilvy Consulting to encourage more people to recycle their takeaway cups.
Working in partnership with Heathrow Airport and waste management company, Grundon, Costa has begun working with Ogilvy to seek to understand the behavioural barriers and drivers which influence people's recycling habits, before testing practical behavioural interventions within the airport.
Oliver Rosevear, Head of Environment, Costa, said: "We've set ourselves an ambitious target to recycle 100m takeaway cups in the next year. To help us recover these cups we need to provide consumers with convenient solutions to cup recycling. We are excited to work with Ogilvy to better understand what effective solutions look like for consumers. Partnering with Heathrow Airport and Grundon offers an amazing opportunity to test what works in a closed environment and to share our findings with the wider industry, which we believe will help increase recycling rates."
Heathrow's Sustainability & Environment Director, Matt Gorman said: "Heathrow is not only an airport, but a small city, where innovative projects can be effectively tested before they are scaled up and used in real cities across the globe. We are pleased to work with Ogilvy and Costa on this trial, and are excited by its potential to boost the number of coffee cups the airport recycles and help us create a stronger, more sustainable community."
Sam Tatam, Behavioural Strategy Director, Ogilvy UK: "We're absolutely delighted to work with Costa Coffee, Heathrow and Grundon to apply behavioural science to help increase recycling rates. The team are excited to be developing a range of innovative behavioural interventions for trial within the airport, with the potential for these to drive significant impacts across the country in the coming months."
Source: Ogilvy