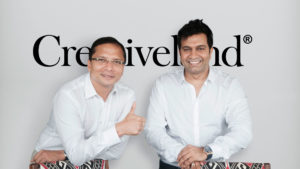 A decade after having set up and run what has become one of the largest and most successful independent communications company in India, Creativeland Asia's Founder & Creative Chairman, Sajan Raj Kurup has announced a strategic move to evolve Creativeland from a communications company into a complete creative eco-system by investing in creating a group that will have a formidable presence across all key strategic creative marketing verticals.
To lead this new group, he has brought on Rana Barua at the helm of it as Chief Executive Officer.
Rana will work closely with Raj and will lead this new group structure that looks at making quantum leaps across its marketing services offering for clients.
Commenting about the new appointment, Raj Kurup said: "Very few CEOs in our market have the capabilities of transforming business and scaling up rapidly. There were three things that made me bring on Rana at Creativeland. His ability to be a lethal competitor in the market, his diverse industry experience and strong track record of scaling up. My team and I spent the last decade building Creativeland Asia brick by brick on strong cultural values and business principles. We always kept the long-term in mind. Not a short-term valuation-seeking sell-out model.
This organic and careful growth has laid a strong foundation that becomes a fertile platform for a strong business leader like Rana to build on it further exponentially. Rana's significant experience across media and marketing will also help us drive strategic alliances and partnerships and further boost the Groups presence across Digital Media, Creative technology, Design and shopper marketing functions. He will take on the responsibilities of everyday business and operations. Which I am hoping will also give me more time at Creativeland to be a full time thinker, investor and creator of new."
With an experience of over 22 years in the industry, Rana has worked with some of the most credible media outfits in the country. Prior to joining Creativeland Asia, Rana Barua was the Chief Executive Officer of WPP Group's Contract Advertising where he successfully led them to several new business wins because of his strong client relationships, effective marketing solutions, creative excellence and innovations.
As part of his long and illustrious career, Rana was also responsible for repositioning and innovating in the radio sector where he worked as COO RED FM (SUN Group) and earlier as Head of Marketing for Radio City. He started his career in advertising having led and worked on leading brands at JWT, Ogilvy, McCann & Rediffusion | Y&R. He is also an executive committee member and honorary secretary of the Advertising Agencies Association of India – AAAI, a leading institution of the country.
On his new move and role, Rana Barua, Chief Executive Officer, Creativeland Asia Group said: "Over the last 10 years, Raj has built a fabulous organisation, team and culture. Which is evident in great client partnerships and work that is disruptive in the market. While Creativeland has always stood out for me as it has to most in the advertising industry, what got me revved up about this opportunity is Raj's clear vision to build a creative ecosystem beyond the traditional marketing communication gamut."
"The ambitions and expansion plans we discussed has made me believe that there can't be a better place to realise them than Creativeland today. Both, in India and overseas. Partnering Raj and leading a super bright team at Creativeland Asia Group, launching new verticals, treading newer geographies and taking on the challenges of building the creative ecosystem of the future makes for my next level of excitement. Keeping our client partners and results first approach at the centre, Creativeland's plan for the next decade will unfold gradually and thoughtfully. We are invested in creating a group that will have a formidable presence across all key strategic verticals," continued Rana.
The new structure at Creativeland Asia will house verticals of Creativeland advertising, Baaash Digital, Creativeland Pictures (films & content), Creativeland Hospitainments (experiential, events and entertainment) with individual business leaders who will report into the CEO.
In addition, internal investments are being allocated to set up and drive new strategic tie ups across Media, Creative Technology, Design, PR, Experiential, Events and Shopper Marketing functions.
While Rana will be responsible to consolidate and drive all the advertising and brand communications verticals, he will also be crucial in shaping up Creativeland Hospitainment which includes entertainment, events and activation and Creativeland Pictures, the groups film and television vertical. Creativeland Pictures has created award winning content for both television as well as the big screen. Its first feature film, Karmayogi, an Indian adaptation of Shakespeare's Hamlet, received great admiration from the International Film Festival of India (IFFI). It ventured into television content and production last year with The Legend of Jagannath, for the National Geographic Channel.
Creativeland Asia is all geared up for an offsite culture workshop to transition into the new structure and leadership.
"Cultural transitions are key when it comes to such crucial hires. We will be doing it the indomitable Creativeland way with a 3 day ashram based leadership workshop which combines yoga, meditation and future search modules," explained Raj.
Source: Creativeland Asia