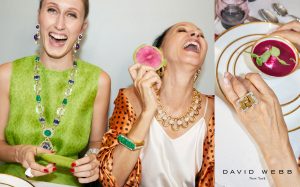 Jewellery company David Webb has debuted their latest advertising campaign, a modern vision of the quintessential David Webb woman — daring, dynamic, fiercely individual — turning everyday moments into occasions for revelry.
Captured by artist and photographer Juergen Teller and created with leading independent creative agency Yard NYC, the 'Everyday Revelry' campaign celebrates the irreverent spirit that has always been, and continues to be, David Webb's signature.
Mark Emanuel, Co-Owner, David Webb New York said: "Many David Webb clients are women purchasing for themselves. David Webb celebrated the female empowerment movements of the 60's and 70's; women often wore David Webb to express and celebrate that sense of power and personal freedom."
Shot in a private apartment in New York City, the images feature a cast of women known for their electric personalities as much as their beauty — legendary supermodel Pat Cleveland; her daughter, model Anna Cleveland; award-winning filmmaker Chiara Clemente and her sister, noted chef Nina Clemente — in snapshots from an intimate family gathering.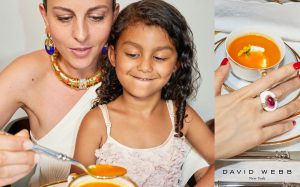 The Everyday Revelry campaign is the first iteration of a larger creative platform developed with Yard NYC that will demonstrate and illuminate the ways that real women wear David Webb jewellery in their own lives. Just as David Webb, the house's founder, said that jewellery was "meant to be worn, not kept in the vault," the platform will highlight the idea that glamour isn't reserved for the evening – and everyday life is occasion enough to wear David Webb.
Stephen Niedzwiecki, Co-Founder & Chief Creative Officer, Yard NYC added: "We knew we wanted a cast who epitomise the David Webb woman: willing to break with conventions of how and when to wear fine jewellery, revealing in the joy of living – proving presence and attitude is captivating at every age. But as we dove further into this iconic brand, we heard again and again that David Webb jewellery is passed down grandmother to mother to daughter. So as we worked to redefine what David Webb means for today's modern woman, that "intergenerational celebration" became an integral part of the story."
Since its founding in 1948, David Webb New York has created distinctly modern jewellery for modern women: pieces that assert a woman's personality through colour and scale, and serve as a tool for self-expression. While considered modern and iconic by prior generations, David Webb needed to reaffirm its relevance among younger generations and redefine what its brand means for today's modern women of all ages.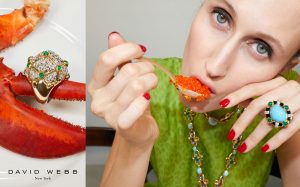 Yard NYC, understanding this challenge, set out to prove how David Webb's jewellery, impossible to ignore and distinctive in its design, complexity and sheer scale, couldn't be better suited for both the older and younger generations looking for a jewellery brand that speaks to their power, presence and fierce individualism.
To bring this idea to life, Yard NYC captured an intergenerational cast of captivating women who tie into the brand's legacy of clients with bold, singular style. The cast included fashion darlings Pat and her daughter, Anna Cleveland, as well as Nina and Chiara Clemente, art royalty, but also artists in their own right, along with their own daughters.
The jewellery featured in the campaign echoes the spirit of revelry. An array of signature David Webb motifs — hammered gold, architectural cocktail rings, carved jade and rock crystal — capture the festive, eclectic nature of the brand's designs.
The Everyday Revelry campaign launches in the September issues of leading fashion and lifestyle publications throughout the United States. In addition to print ads, a variety of video and digital content will be published through David Webb's Instagram, Facebook and on their website.
Source: Yard NYC