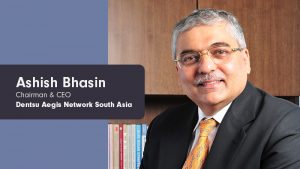 Ashish Bhasin, Chairman & CEO South Asia, Dentsu Aegis Network Media India Pvt Ltd has been elected as the President of Advertising Agencies Association of India (AAAI) for the year 2018-2019 at its Annual General Body Meeting held on July 26.
Anupriya Acharya, CEO, Publicis Media India, was elected Vice-President of the Association. Other members of the Executive Committee in alphabetical order are:
Immediate Past President, Mr Nakul Chopra will be the ex-officio member of the new AAAI Executive Committee.
On this occasion, Mr Ashish Bhasin, President AAAI, said "It is an honour and privilege for me to be elected as the President of AAAI, a position that has been occupied in the past by some of the biggest stalwarts of our industry. I will endeavour to promote the interests of the advertising industry to the best of my abilities and make AAAI a stronger Association. We will also endeavour to ensure that the Association continues to successfully represent the interest of Advertising Agencies in this era of rapidly changing times. I take this opportunity to thank Nakul Chopra, from whom I have learnt a lot. He maintained such high standards as President that it will be a tough act to follow!"
Outgoing President Mr Nakul Chopra stated, "I have been privileged to lead AAAI for two years – my sincere thanks to all my fellow members for their support. Hearty congratulations to Ashish on his election as President. He is not only a key influencer in our industry but also a AAAI veteran. I am sure that AAAI will only grow from strength to strength under his tutelage."
The Advertising Agencies Association of India (AAAI) is the apex national organisation of advertising agencies, formed in 1945, to promote their industry interests so that they continue to make an essential and ever-increasing contribution to the nation. The AAAI today is truly representative, with a large number of small, medium and large-sized agencies as its members, who together account for almost 80% of the advertising business placed in the country.
Source: AAAI