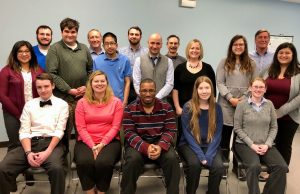 Dentsu Aegis Network, announced a partnership with AutonomyWorks, a company that specializes in mobilizing employees with autism for core ad operations. Because these functions are often tedious and repetitive, they require a higher aptitude for pattern recognition and attention to detail, which are talents associated with many people with autism. As the Dentsu Aegis Network Center of Excellence for Digital Operations and Automation grows, a portion of the team will be composed of AutonomyWorks team members.
"We announced last year that one of our key stakeholders is society and that we would hold ourselves accountable for improving the communities that we live and work in," said Nick Brien, CEO, Americas, Dentsu Aegis Network. "Partnering with AutonomyWorks is a simple way for us to make a difference in the life of someone living with autism, while also providing a crucial service to the business."
"The world of digital operations is transforming with new technologies, artificial intelligence, and automation. Yet, companies still need to have a responsibility to incorporate programs that help and support their communities. Our partnership with AutonomyWorks gives us the opportunity to drive quality work while influencing the lives and public perception of people with autism," said Max Cheprasov, Chief Automation Officer, Dentsu Aegis Network.
"In the next 10 years, 500,000 people with autism are going to leave school and enter the workforce. If current trends continue, 400,000 ​or more of them will be unemployed and living on disability or under the support of their family," said David Friedman, CEO at Autonomy Works. "Dentsu Aegis Network wanted to take action by not only providing job opportunities for people with autism, but also helping AutonomyWorks grow as an organization."
AutonomyWorks is a for-profit social enterprise built around the talents of adults with autism. The organization employs teams of adults with autism in support of national and international marketing organizations that need detail- and task-oriented employees to effectively support their digital and online marketing efforts.
Source: Dentsu Aegis Network