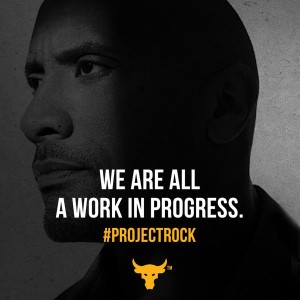 Dwayne Johnson launched Project Rock, a motivational lifestyle brand designed to help people everywhere achieve their goals. Project Rock focuses on being a key resource to help individuals in their journey to achieve greatness by equipping them with the right tools to use along the way.
Project Rock kicks off with the release of two limited-edition bags created in partnership with innovative performance brand, Under Armour. Both bags are tough, durable, and contain enough pockets to transport everything needed to tackle any task: from the gym, to school, to work and more.
Johnson has already given his social media followers a sneak peek at the highly-functional Project Rock bags and hopes consumers will not only see these items as practical for everyday use, but as the ultimate resource to get after their goals.
"Project Rock recognises that we are all a work in progress, consistently trying to get better and working harder toward our goals. Understanding the grit, grind, and sacrifice, I wanted to find a way where I can embark on a journey with others, to inspire them to constantly chase their greatness no matter the intensity," said Johnson. "That's why partnering with Under Armour made so much sense, they embody the idea of this constant growth and progression, and together we want to help push people through their own ongoing pursuit of innovation: mind, body, spirit."
"We are thrilled to break new ground with Project Rock and can't wait to continue to change the game with even more upcoming launches and collaborations, " added Dany Garcia, Johnson's longtime manager and founder of The Garcia Companies.
#ProjectRock officially launched. 1st up: Greatest bag of all time. Enjoy! #ChaseGreatness ? https://t.co/5NK6Ax5Z6uhttps://t.co/irT7VKqXBB

— Dwayne Johnson (@TheRock) March 3, 2016
The limited edition bags are available for purchase beginning March 4Â at UA.com.
"Under Armour is all about empowering athletes and helping them achieve their goals," said Todd Montesano, SVP of Strategic Partnerships and Entertainment at Under Armour. "Whether that means being named MVP or completing your first 5K, Under Armour develops the world's most innovative gear to help you get there and we are proud to partner with Dwayne and Project Rock to help his fans be their best."
The official Project Rock bags are the first items to launch from Project Rock. Additional offerings will roll out later in 2016Â in consumer categories including technology, accessories, apparel and more. Project Rock was developed in part by Dwayne Johnson, WME | IMG, Under Armour and Droga5.