One is a touching 17-year love story condensed into a new ad for 1Life, South Africa's number one Direct Life Insurer.
House of Brave's creative team of Gareth O'Callaghan and Conan Green, headed up by ECD Vanessa Pearson, centered the ad on the truth that one simple thing can change your life.
Pearson says: "The story is engineered to prompt viewers to really think about the domino effect that just one simple thing can have to change a life and make an enormous difference."
The narration-driven script starts with one look at a function and progresses to two cups of coffee, three smiley SMS faces, four hours of argumentative silence, five tickles, and six days apart,
all the way to 17 years and counting.
Egg Films' director Slim says: "A lot of the narration was quite specific, but we didn't want the visuals to be that literal. We tried to avoid obvious, clichéd moments, like the couple getting married, and resisted trying to be comedic. We wanted to observe real moments and keep everything as emotional and human as possible."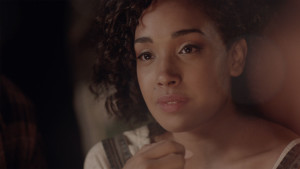 Slim connected immediately with the House of Brave team and the story, not just for the strong idea the ad is based on but also for the creative leeway he was given: "This is one of those ads where there was the version we were briefed, then another version I imagined, then another version we shot, and then it was different in the edit again. The client and the agency were open to going with whatever felt right; everything was always a discussion for the benefit of the idea."
Pearson says the campaign needed to reinforce that 1Life is a brand that understands real people's lives and is a trusted and preferred direct financial services provider with simpler, better solutions for their clients; all underpinned with an endearing and authentic tone: "To achieve this, we had to maintain sincerity and execute the message and story in a way that differentiated the brand in a cluttered environment, as well as clearly establish 1Life's unique offering of absolute simplicity whereby one SMS, one phone call or one policy can change your life."
The campaign line – "Sometimes one simple thing can change your life" – is equated to making life less complicated.
Rick Rupping, general manager: head of marketing at 1Life, says: "At 1Life we work on one simple, yet powerful premise – Changing Lives – and we believe this campaign not only delivered upon this premise but went beyond our expectations. This story is powerful and unique and we hope it will enable us to engage further with South Africans as they are able to relate to pieces of their own lives."