Energizer, a leading innovator in the battery industry, is debuting the latest addition to its portfolio, Energizer MAX PLUS alkaline batteries, in its latest TV advertising.
Launching in August with a fresh new creative, the advert sees the new look Mr. Energizer take a starring role, promoting the new range. Energizer MAX PLUS AA batteries are the brand's best performing, longest-lasting alkaline batteries and the fun advertising demonstrates their longevity to UK households.
Appearing alongside popular ITV programmes as well as being shown on Channel 4 and Sky channels during August, the advert is expected to reach nearly eight and a half million people. Both humorous and engaging, the advertising has been created by Camp + King and follows Mr. Energizer who, thanks to his long-lasting energy, can't stop moving! The director then comes up with the idea of him running on a treadmill to keep him in one spot for the perfect take.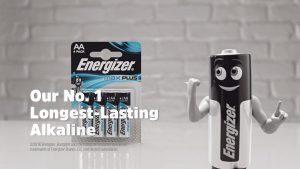 "Energizer MAX PLUS underscores our commitment to innovation and providing consumers with long-lasting, reliable power and this TV advert further highlights our ambition for this new range," said Lori Shambro, Vice President, Global Marketing at Energizer Holdings, Inc. "Our performance AA alkaline batteries power the devices consumers use most with the best performance from Energizer  yet, so you can feel confident knowing you have power when you need it."
Energizer is introducing Energizer MAX PLUS  through an integrated marketing campaign featuring Mr. Energizer. His unstoppable power and energetic spirit brings to life the strength and endurance of the batteries.
Energizer MAX PLUS AA batteries are the brand's No. 1 longest-lasting AA alkaline battery, and they hold power for up to 12 years in storage. The new AA batteries also feature the leakage protection customers have come to expect from Energizer. It will replace the brand's current performance alkaline product, EcoAdvanced, offering to streamline and improve consumers' shopping experience.
Energizer MAX PLUS is available across grocery, impulse and wholesale channels in all primary battery formats following its launch in June 2018. It starts at £5.00 for a four-pack.
Source: Camp + King