The Royal Navy has launched a new recruitment campaign for the UK's world renowned amphibious force, the Royal Marines Commandos. The campaign gives new meaning to the Royal Marines' long running line "It's a state of mind" by showing that to become a Royal Marine, you have to change what you think is possible.
The launch film, "The Mist", was created by Engine's creative agency, WCRS, and shot by multi award-winning director Nicolai Fuglsig along with a team that included Oscar-winning Director of Photography, Matyas Erdly.
The next film in the campaign, "Spider", was released on 27th August.
To keep each film as authentic to Royal Marines operations as possible, they were shot with the Royal Marines on deployment, and each features real, combat-ready Royal Marines Commandos.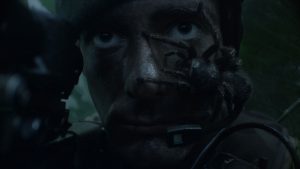 The new campaign has been live from 20th August, appearing across broadcast television, video on demand and social media platforms such as Instagram and Facebook.
Paul Colley, Head of Marketing Royal Navy says: "These films really highlight the essence of 'It's a State of Mind' but critically that if you become a Royal Marine you can change what you think is possible."
Orlando Warner, Creative Director, WCRS says "We wanted to create a campaign that was true to who the Royal Marines are and reflected the strength of mind required to wear the coveted green beret. The hugely talented Nicolai Fuglsig helped us bring to life these quiet, thoughtful scripts, each focusing on the mental discipline required to be a Royal Marine."
Simon Peck, Group Managing Director, Engine Group says: "Engine's proud relationship with the Royal Navy has produced several award-winning campaigns, and these latest films are some of the most powerful yet. By continuing to push new creative boundaries we hope to inspire the next generation of recruits to consider joining the Royal Marines Commandos."
Source:Â WCRS