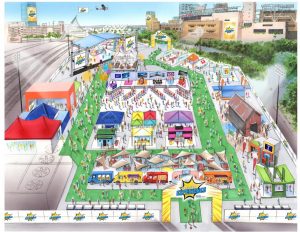 San Diego Comic-Con is right around the corner and fans, with or without badges, have a new opportunity to quench their superhero thirst outside of the crowded Convention Centre.
Grandesign, one of the fastest growing Out-of-Home media solutions companies in the country specialising in over-the-top outdoor campaigns and unique brand engagement, announces its partnership with Petco Park to bring comic book enthusiasts an "Experience at Comic-Con."
Formerly known as Petco Park's Interactive Zone, the Experience at Comic-Con plans to create the same type of atmosphere, but larger and more exciting than ever before. Nestled in the Lexus Premier Lot, folks can expect the three-acre blacktop to transform into a pop-culture playground equipped with engaging fan activations of Comic-Con-esque brands, with lounge areas, celebrity sightings, entertainment and food trucks.
"San Diego Comic-Con is the convention of all conventions and virtually impossible to get a ticket to like many sporting event championship games," said Chief Operating Officer of Grandesign, Robert Ridgeway. "After spending the past seven years working with Comic-Con and Petco Park, we approached them with an idea to turn this interactive zone into a grand fan experience so the everyday fan can participate in this iconic gathering."
In 2017, the interactive zone beckoned over 200,000 fans to the off-site location during the four-day event. With Grandesign's help, it is predicted that the number of sci-fi, superheroes and other genre fare will hit record highs. Companies that have participated in the interactive zone in the past include Cartoon Network, Fandom, Amazon, Freeform, Warner Brothers, Universal Studios and many more.
"Grandesign was a natural fit as we have created successful activations together in the past," said Director of Petco Park Events, Allie Asuncion. "We really trust the team's operational skills and creativity."
The Experience at Comic-Con will be open to the general public at no cost from July 19-22. Badge holders have the opportunity to enjoy the experience as a VIP member.
Source: Grandesign