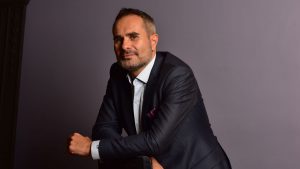 The Customer Experience Group welcomes Eddy Blanchet as the company's new Managing Director for FACE2FACE Training and Consultancy. The appointment will help further expand FACE2FACE's global footprint and drive the company's Europe, USA and MEA strategy.
FACE2FACE, a leading luxury retail customer experience consultancy, is part of a five-agency alliance – along with Wisely Insights, Activate Experience, Albatross CX and SmartCX – that forms the Customer Experience Group (CXG). Together, they empower premium and luxury brands to elevate customer experience to accelerate growth.
On the appointment of Eddy, Christophe Caïs, CEO of CXG, commented: "In today's ultra-competitive luxury retail market, companies are now fully aware of the importance and impact of customer experience. Hundreds of clients we work with have seen first-hand how it fosters stronger customer relationships and significant business growth. We're thrilled to have Eddy lead our CX work in Europe. His previous cooperation with top brands like L'Occitane and Louis Vuitton provides unmatched insights and expertise."
As Managing Director at FACE2FACE, Eddy will manage the company's corporate direction and strategy, leading the organization's consultancy training, sales, marketing, alliances and channels.
On joining FACE2FACE, Eddy commented: "As an executive, founder and consultant in the luxury and beauty industries I know customer experience is a defining element of brands. It alone is often what drives consumer choice. Through my new role, I'm excited to use my experience to enable premium and luxury brands to elevate their customer experience to enhance customer relationships, brand strength and business growth."
Fabrice Tavel-Besson, Founder & Executive Director of FACE2FACE, added: "Since founding FACE2FACE in 2010, we've always focused on bringing together the luxury industry's brightest minds. In Eddy, there is no exception. He is an expert in driving strategy, commercial performance and accelerating organizational growth. His addition will drive our new strategy, scale our operations and produce sparklingly, memorable customer experiences."
Eddy brings more than 25 years' experience in the luxury and beauty industries as an executive, leader, founder and brand consultant. He has extensive international experience at some of the world's largest and most-renowned brands, including L'Occitane, Air France, La Reserve Hotels, Annick Goutal, Louis Vuitton, and Intercontinental Hotels. Notably, he also successfully established Kiehl's popular, far-reaching retail network in Benelux, and led L'Oreal in the same region as Country Manager, Belux from 2008-2011.
Interestingly, Eddy's unique talents in the luxury industry extend beyond executive offices and boardrooms. He is a perfume creator and founder of his own line of perfumes, FWIEHA Fragranza ta malta. He joins FACE2FACE from his position as founder and Managing Associate for the luxury division of Axessio Consulting.
Beyond his work as an executive and consultant with leading luxury brands, Eddy is a sought-after industry-certified executive coach, speaker and lecturer, as well as an MBA and MSc professor at leading business schools, including HEC and Inseec Business School.
As a thought-leader, Eddy is the inventor of 'EMBM', a pioneering business model and methodology that distinctively manages brand relevance, sustainability and growth.
Additionally, he's renowned as an educator and coach, delivering in-demand masterclasses, seminars, and corporate workshops globally on high-relevance industry topics like transformation, business excellence, brand management, consumer trends and founding a luxury label.
Source: The Customer Experience Group