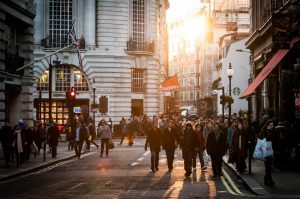 New research has highlighted how fashion and sportswear brands can define 'authenticity' to Generation Z. According to UK consumers aged 16-24, it's about caring about their customers (71%), a good range of clothes (71%), being true to their values, being friendly, and caring about their employees (all 66%).
However, younger audiences in the UK are much more likely to attach importance to factors relating to good corporate social responsibility – such as 'making a difference to society' (13% more likely than average to say this) and 'regularly supporting causes and activities' (10% more likely than average).
In addition, 61% of people aged 16-24 say that fashion advertising needs to show 'realistic people' if it is to be seen as authentic and 58% suggest this means showing people of different body types.
The survey of 2,000 Brits, half of whom were aged 16-24, was carried out jointly by broadcaster ITV and media agency UM as part of ITV's ongoing youth research initiative The Booth and sought to determine how consumers define 'authenticity' for fashion and sportswear brands, particularly in advertising. It revealed just how important this quality is to Generation Z:
It affects sales: More than half (59%) of 16-24s are more likely to buy fashion brands they consider authentic
Video is key: More than half of Generation Z (54%) say video advertising is important if fashion brands want to appear authentic – compared to 43% of those aged 25+
The study also revealed that sportswear/athleisure brands tend to be seen as more authentic by young people than their purely fashion-brand counterparts:
When UK 16-24s were asked which clothing brands felt most authentic to them, the five highest-scoring brands were all sportswear (the top three were Nike (64%), Vans and Adidas (both 63%))
The 'most authentic' non-sportswear fashion labels were Timberland (59%), Ralph Lauren (58%) and Tommy Hilfiger (56%)
The three most authentic-seeming fashion retailers were ASOS (55%), Topshop (51%) and River Island (49%)
Glenn Gowen, Head of Audiences at ITV, comments: "Authenticity has a strong relationship with brand love, consideration and purchase intent. It should be considered a key part of any fashion brand's identity and its advertising, particularly on TV and video. Younger audience are more aware and in-tune with societal causes and activism. They want brands to embrace these values as well. However, they're savvy and will know if a brand is not being true to itself. It really does pay to be genuine."
George McMahon, Senior Insight Executive at UM, adds: "Brands that put authenticity at the top of the fashion agenda are likely to connect with younger audiences. 16-24-year-olds also want the fashion industry to support causes and act to make everyone feel like they can be happy in their own bodies. It's a key part of being seen as authentic. Hearing and seeing inspiring messages in clothing adverts, combined with seeing a wider range of body types, helps brands tell the stories young people want to hear."
Source: UM