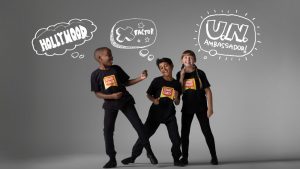 Professional performing arts school, Stagecoach, has announced a global brand refresh, and has appointed launch specialist Five by Five as lead creative agency for the project.
Launching later in 2018, the campaign looks to position Stagecoach as more than solely a performing arts service. A brand evolution of its Creative Courage for Life business ethos, Stagecoach's worldwide franchises will focus on how they can help boost kids' confidence and life skills, both onstage and off. Five by Five will deliver all creative concepts across digital, social and print, with a remit to align the brand internationally, bringing its values to life for children and parents alike.
Five by Five's work will strengthen the global brand across Stagecoach's schools in the UK, Australia, Canada, Germany, Gibraltar, Malta, Spain and China.
Paul Cottrell, Executive Creative Director at Five by Five, says: "It's a pleasure to work with such an impassioned client on a project like this. Stagecoach wants to help improve wellbeing – a simple yet pertinent aim in 2018. As the stresses of modern life become more apparent and people become more vocal about its implications, we're proud to be driving Stagecoach's mission to help the next generation grow up happy and healthy."
Jo Scalpello, Head of International Marketing at Stagecoach, adds: "We live in a world where parents want their children to grow up with the essential life skills needed to grab every opportunity in life and succeed. Stagecoach has spent the last thirty years perfecting our teaching of the performing arts to deliver those skills – we call it 'Creative Courage for Life'. Five by Five were able to interpret our business ethos and translate this into creative and communications that resonate perfectly with our audience."
Source: Five by Five