For its latest campaign, Zalando tackles one of the big obstacles to diversity and freedom; stereotypes. The work sets out to say goodbye to outdated stereotypes and make them a thing of the past. In turn, it welcomes us to a richer world of freedom and coins the new term Zerotypes.

Brought to life in a bold and playful campaign, Zalando celebrates a world beyond stereotypes for Spring – the season that is all about changeability – allowing everyone to express their multifaceted nature through what they wear. Zalando's ambition for the campaign is for the 'Zerotypes' message to spark a wider conversation around the outdated cultural stereotypes that still remain.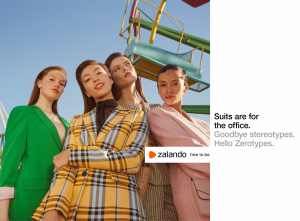 In a study run in partnership with YouGov across select markets, Zalando found that 89% of people reported that stereotypes continue to exist in today's society, with 47% saying more than they used to. The majority of people across countries feel one of the main culprits is media with 57% referencing film and TV shows and 60% mentioning advertising. With this in mind, Zalando hopes to change the way that fashion and advertising restricts people by enabling them to celebrate their Zerotype self.
"As Europe's leading fashion platform with more than 29 million customers we understand the wide variety of each person's individual style and that stereotypes have no place in modern society," says Jonny Ng, Director Marketing Strategy & Campaigns at Zalando. "For our Spring'20 campaign, we want to celebrate "Zerotypes" – a belief that people should be free to be as they are with no types, expectations or limits to define them".
Created by the agency Mother in London and directed by Leila & Damien De Blinkk, the film takes us on a journey through a funfair, repeated in a loop. At first, the journey reflects the familiar and expected stereotypical portrayal of a funfair. As we revisit the same situation repeated times, the characters' roles and fabulous outfits become more unexpected, having transformed with the help of Zalando's wide assortment of styles. In the final play, we arrive in a new world that reflects the diversity of today, where any style is welcomed and everyone is free to be multifaceted. We see that our characters have broken free of their stereotypes and are now free to be their Zerotype selves.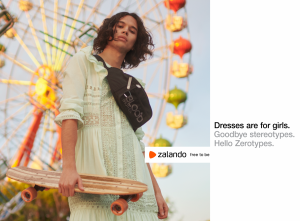 The end line, 'Goodbye stereotypes. Hello Zerotypes.' draws the campaign together, tying in with nature of 'the in-between season' Spring and inherent freedom that comes with being undefinable, embodying Zalando's Free to be brand positioning. Free to be encourages everyone to be who they really are with no one dictating what to think, feel or wear.
The film is accompanied by eye-catching print work captured by Tom Craig and engaging social films directed by Tash Huang. The TVC also features the music of 'pop-mavericks' Metronomy and the standout track from their latest album, Salted Caramel Ice-cream.
The film is the centrepiece of the campaign, and it will be shown on TV and social media and further translated into print, OOH and Zalando-owned channels. We hope this will encourage people to say goodbye to stereotypes and hello to Zerotypes. The campaign is live now.
Source: Zalando