Göteborg Film Festival is the leading film festival in Scandinavia. Every year, the festival attracts big names – like actors Mads Mikkelsen and Alicia Vikander – as well as huge crowds of guests and participants.
In 2019, a few selected visitors will also be able to use the festival to challenge their deepest fears by watching the Nordic premiere of the sci-fi adaption Aniara, trapped alone in a sarcophagus and isolated from the outside world. It's the definition of a unique movie experience, and almost certainly the world's most claustrophobic cinema.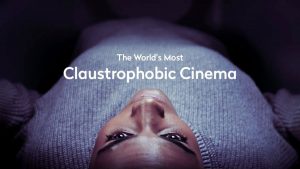 "This is going to be a challenging experience that intensifies the sensation of being alone in deep space – something that characterises Aniara. We wanted to explore what happens when you see a movie in these kinds of extreme conditions. The screenings might even raise a couple of questions about the direction in which humankind is headed," says Jonas Holmberg, creative director of the Göteborg Film Festival.
For many, the thought of the earth's downfall is terrifying. But it's no longer an unthinkable scenario, given the current threat to our climate. This year the festival will focus on the concept of the apocalypse: and as part of this, it will host the Nordic premiere of the hotly-tipped sci-fi adaption Aniara.
In Aniara, a 2018 adaptation of a science fiction poem by Nobel Prize winner Harry Martinson, humanity is forced to escape from the Earth via spaceship. The vessel's passengers are forced to wrestle with obsessions, isolation and limited space. This is an experience that the Gothenburg Film Festival will now let selected visitors come very close to.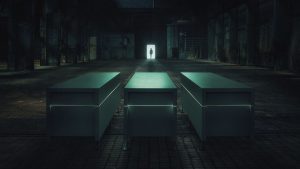 The sarcophagi are 210 cm long and 60 cm wide. They have air vents in their bases and are equipped with built-in screens and speakers. Each casket is constantly monitored – and if anyone wants to come out before the screening is over, they're all equipped with panic buttons.
In order to be in with a chance of buying a ticket for one of these screenings, register here. The screenings will run between January 27th and 31st, with each experience taking a little over three hours with a randomly-selected group. Eight places will be available at each screening.
The experience was devised by Swedish creative agency, Stendahls.
Source: Stendahls