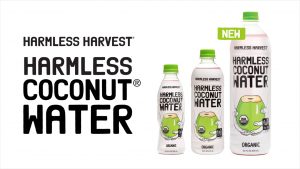 Brooklyn-based independent agency, Madwell, announced that it has been named agency of record for coconut-based beverage company, Harmless Harvest, after a highly competitive, national RFP process. Madwell's first task will be developing brand positioning, campaign strategy, media planning and creative execution in support of a Summer 2019 launch.
Harmless Harvest is a food and beverage company dedicated to proving that ecosystem-based businesses can outcompete the conventional model. Combining innovative scientific methods with local traditional farming practices, Harmless Harvest develops and manufactures products that deliver the nutritional and ethical integrity that nature intended.
Harmless Harvest selected Madwell as AOR for its ability to think across all channels using a collection of key offerings and capabilities that the agency has been amassing since its inception in 2010. In their past work in the food and beverage category, Madwell demonstrated their ability to execute high-level and impactful creative work that drives business growth.
"We've been fans of Harmless Harvest, their eco-friendly mission, and their tasty, pink coconut water for a long time, and we're excited to be working with them as a strategic and creative partner," said Chris Sojka, Chief Creative Officer at Madwell. "They don't just make a top-notch product; they put in the extra effort to make it as honestly and equitably as possible. We've always respected their commitment to the people and the planet that make their product possible, and we look forward to sharing their story in fun, interesting ways that make their bright pink drink stand out even more."
Madwell will be working on brand positioning, campaign strategy, creative concepting and execution as well as media planning and buying for Harmless Harvest.
In a world where technology is dissolving the barriers between mediums, Madwell believes in an interdisciplinary, medium-neutral approach to brand building that communicates a strong, focused message. Madwell's integrated services allow them to research, develop, and activate a creative idea all the way from strategy to execution, and their diverse client roster has allowed them to master agile creativity and compete with industry leaders in categories including CPG, family brands, and sports and fitness.
"Madwell's creative prowess and expertise in fully integrated marketing strategies were key in our selection. Their full list of offerings will allow our brand messaging to be extended through every touch point and create a cohesive connection with our consumers, old and new," says Jenna Stephenson, Director of Marketing at Harmless Harvest. "We're excited to work with a team of people who share the same ideals and goals that we do, and who can educate our customers on our company and our mission while helping us meet our business objectives."
Source: Madwell