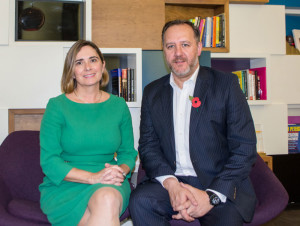 Havas Media Group has announced the appointment of Mark Connolly as Media Performance and Investment Director – a newly created role for Havas Media Group's Middle Office which delivers investment & solutions across Havas Media Group.
Connolly has a strong background spanning over 25 years in the industry, during which he has held senior media roles at a number of high profile brands and agencies including GMTV, BskyB, Virgin Media, Yahoo!, MIG and Adconion. In his most recent position as Chief Revenue Officer at AudienceScience he played a pivotal role in strengthening its global strategy and offering.
Due to start this week, Connolly will report into Julia Jordan – the Group's MD responsible for investment & solutions. In his new role, Connolly will be responsible for investment, operations and media performances across the Group's media agencies: Havas Media, Arena Media and Forward Media.
Jordan commented: "Mark impressed us hugely with his expansive knowledge of the digital landscape and in particular ad technology, data and programmatic. His commercial acumen combined with exceptional leadership qualities made him the perfect candidate for the role and supports our commitment to a digital first model with data and content at our core."
The appointment of Connolly marks the major reorganisation of the investment, digital and data platforms being undertaken by Jordan. He will be tasked with drawing on his first class leadership and strategy skills to lead the delivery of creative commercial solutions for clients, via all Havas Group platforms which are being transformed by Jordan into an integrated model that manages over £500m billings across the three agencies.
"This restructure concludes the process of consolidating expertise across on- and off-line media, and will deliver enhanced client connections direct with the investment teams. We intend to ensure that we are best placed to continue to invest in compelling innovative solutions for our clients, and we are making a significant investment in development and opportunities that ensure that Havas Media Group remains a great place to work and develop," Jordan added.
Connolly said: "It's inspiring to be joining Havas Media Group at such a pivotal time for the business. I'm looking forward to collaborating with Julia across the business to help evolve it to the next level."
In addition to this key appointment Jordan is in the process of recruiting Connections Partners that will report into Connolly. The Connections Partners will work closely with Data Analysts to supercharge the evolution of client briefs into strategic implementation ensuring efficient delivery. This is a new senior function that will be part of a new Havas Media Group global Connections Network. The Connections Partners will be integrators between planning and the multitude of opportunities across paid, owned and earned channels. Crucially, they will also connect to media delivery teams as well as HSE Cake and ais London experiential and content teams.