HiPP Organic is thrilled to be introducing its new brand repositioning to the baby food category; 'Feel HiPP'.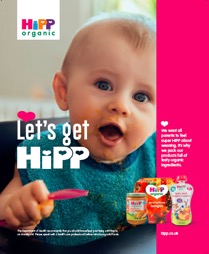 The exciting new messaging and positioning from one of the UK's most loved organic baby food brands, aims to excite and engage parents to 'Feel HiPP' throughout their weaning journey; enjoying and embracing every moment they share with their baby to the fullest.
Research by HiPP Organic found that almost half (46%) of parents worry they are not supporting their child's nutritional needs. The new messaging therefore aims to show parents that HiPP Organic is there to support them throughout their weaning journey and help to build confidence that they are providing their baby with the best nutritional options available.
The brand will also be airing its first ever ATL TV campaign this summer, releasing its debut advert which will be live from July-August 2018. Following a successful television trial in April as the headline sponsor for Little Big Shots on ITV, HiPP Organic will drive further excitement amongst the trade with a £2m media investment plan, that also includes digital, social, shopper marketing, consumer PR and video on demand.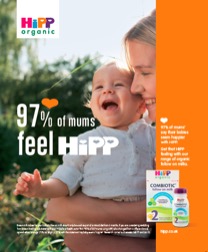 John Allaway, UK General Manager at HiPP Organic comments: "This is an exciting and significant year for HiPP Organic with the launch of our new brand repositioning and appearing on TV for the first time. We are proud to be a family business that's been bringing the best organic baby food to families for over 60 years, helping both parents and babies to feel great during their weaning experience. Our updated positioning will use our new, distinctive 'Feel HiPP' key messaging, with a strong visual identity to drive further brand awareness and emotional connection across all our communications to further reinvigorate the category."
These new communications follow a year that has already seen the brand extend its leading tray meals range, offering six new variants that are 100% savoury with new ingredients such as lamb and fish.
With the combination of its tray meals launch, TV debut and supporting repositioning, HiPP Organic is set to continue to stand out with a distinctive positioning that will drive further engagement and relevancy amongst consumers that retailers can tap into.
Source: HiPP Organic