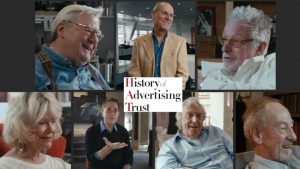 The History of Advertising Trust (HAT) has launched its first ever podcast, which reveals the stories behind some of the nation's most celebrated ads through a series of interviews with creative legends from the golden age of British advertising. 
Featuring interviews with the likes of Dave Trott, Sir Alan Parker (director of Bugsy Malone) and Hugh Hudson (director of Chariots of Fire), Sir Frank Lowe and Judie Lannon, 'The History of Advertising Podcast' looks back at some of the most revelatory ads from the past fifty years, whilst also giving listeners an insight into the nation's social history and how consumer attitudes have changed over time.
In the episodes, listeners will learn from Jeremy Sinclair, the 'quiet man' of British advertising, about the role which the 'Labour Isn't Working' campaign played in Margaret Thatcher's rise to power. Listeners will also get to hear how advertising restrictions affected the industry, and how definitive campaigns like Tesco's 'Every Little Helps', and After Eight's 'Dinner Party' were created.
Hosted and co-produced by Jack Meggitt-Phillips, the podcast is launching with a 10-part series of 10-minute episodes. The first episodes are already available to download, whilst listeners can hear new episodes launching every Wednesday morning from 0600 GMT on iTunes.
The podcast is co-produced by HAT's oral history project manager Jane Jarvis, who has researched and filmed the conversations with these industry legends. 
Dave Trott, creative director, copywriter, author and contributor to the podcast says: "How can we expect to learn anything, unless we study and discuss the history of it? Maths, engineering, philosophy, politics, art, design, fashion, sport, war, business. Don't we need to learn from previous mistakes and successes before we start? This podcast series is living history: a unique opportunity to learn how the great advertising was done by the people who did it. Don't learn it second-hand, get it first-hand."
Jane Jarvis, oral history project manager at the History of Advertising Trust, adds: "This podcast offers an invaluable perspective on how consumer attitudes have shifted over time. It's been fascinating to learn about how the industry has evolved and adapted over the past fifty years, and this podcast offers a real insight into creative minds, and how some of our biggest household brands would not have got to where they are today without the right ad at the right time."
The podcasts have been made possible through a grant from the Heritage Lottery Fund, and will provide a permanent legacy for future generations. It is a continuation of the 'Inspiring Minds' video project, which was launched by the History of Advertising Trust last year. 
Source: History of Advertising Trust