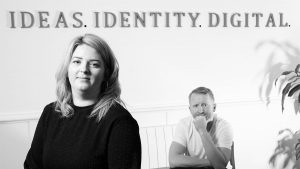 Creative digital agency ID has reported an increase in revenue and over a dozen new clients on the back of a raft of leadership changes. The appointment of Lianne Dewar and David Buchan as Joint Managing Directors for Glasgow-based ID has led to a 50% revenue increase year on year, as well as a complete business transformation – leading to the agency making its largest profit in four years.
Creativity has come to the forefront for the company, with the business offering defined as ideas, identity and digital.
Lianne Dewar, Joint MD, said: "When we took over, it was obvious a whole change in ethos and culture was required. The first was to move away from focusing solely on website development and paid search and to place more focus on design and ideas-led work. Digital is still very much and always will be in our DNA, but we've been building our capacity for creativity and creative communications to complement our digital offering. We are aiming to offer advertising, marketing, branding and digital in equal measure to our existing and future clients."
David Buchan, Joint MD added: "Creativity persists regardless of platform. Every piece of work we do for clients, or piece of content we publish ourselves is an opportunity to deliver effective, creative communications. It's been amazing to see the team evolve, embrace change and be part of delivering amazing results, not just for our clients but for ID too."
Playing on the strengths of ideas, identity and digital, ID has won brand strategy and digital marketing work for adventure company, GoApe. The agency has been involved in the naming and creation of completely new brands this year; including one for new activation agency, Wave. ID has also delivered brand articulation and print design projects for West Lothian College and recently won creative advertising work for James Donaldson Group that will see them deliver a multi-channel advertising campaign that spans radio, outdoor, online, point of sale and experiential marketing.
Recently, ID is also proud to have been appointed as the digital agency for Highland and Island Enterprise (HIE), the Scottish Government's economic and community development agency for the Highlands and Islands – following a procurement and pitch process against larger integrated agencies. ID was appointed to the three-year contract which will see them create a world class digital environment to inspire innovation and transform how HIE deliver information and services to their audiences. The project is true user-led digital transformation including user research, user testing, the design, content creation and the delivery of new transactional online destinations for HIE.
David said: "Being appointed as agency of choice for HIE was a huge win for ID and the cherry on top of what has been a fantastic few months. We're excited to get stuck into the project and see where it takes us!"
Source: ID