For International Women's Day, IKEA wrote an open letter to Treccani – one of Italy's most important dictionary – to analyse how the question "Can I help?" at home shifts the responsibility of housework exclusively to women.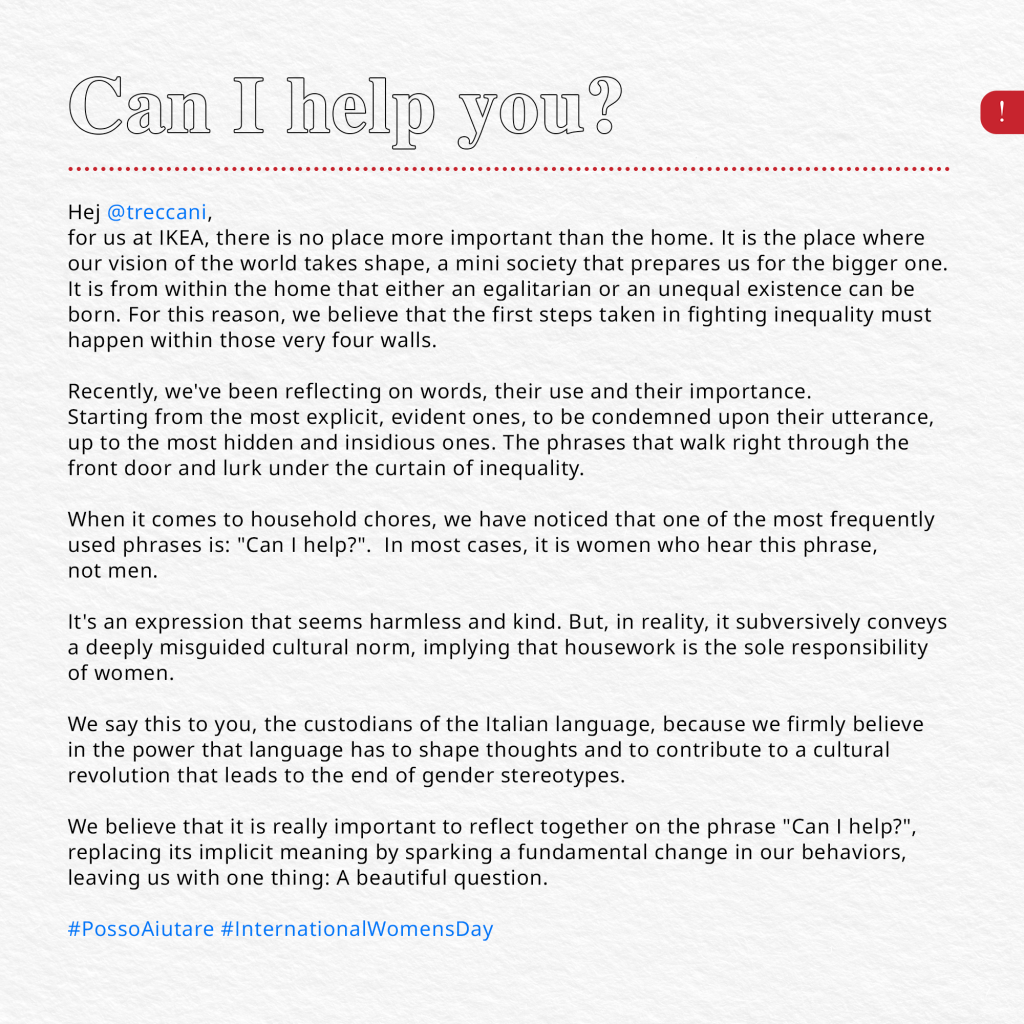 IKEA has always tried to improve home life for all. Year after year, the brand studies the behaviours of people inside the home because it believes that the house is a mini-society that, together with others, forms a larger one: the one in which we live. From home, therefore, a fair society or one torn by inequalities can be born.
For this reason, to mark International Women's Day 2021, IKEA and We Are Social Milan wanted to focus on gender inequalities and, in particular, on words and their importance. But instead of focusing on the words and phrases that explicitly contribute to discrimination against women, as they are more easily recognisable and, therefore, quickly condemned, IKEA wanted to turn the spotlight on one of the most used phrases in our homes when it comes to household chores: "Can I help?"
This expression is often addressed to women by men in the home, which may seem harmless, but in reality, hides a deeply misguided shared cultural attitude. Through the formula "Can I help?", it is assumed that care and assistance work within the home is the sole responsibility of its female inhabitants.
To reflect on the use of the verb 'help' inside the home and fight gender inequalities, IKEA wanted to involve Treccani – one of the most important dictionaries in Italy – through an open letter on social media in which they asked linguists for an authoritative point of view on the subject. The in-depth response from Treccani promptly arrived within the day.
With this message, IKEA and Treccani demonstrate how language and everyday actions are essential in fighting gender inequalities, starting from the home.
Credits:
Agency: We Are Social Milan
Executive Creative Director: Alessandro Sciarpelletti
Executive Creative Director of Production: Daniele Piazza
Associate Creative Director: Paulo Gonzalez, Mattia Lacchini
Creative: Lorenzo Canazza
Art Director: Giulia De Chirico
Editor: Sergio Giussani
Head of Client Services: Francesca Feller
Senior Account Director: Mirco Bertola
Senior Account Manager: Diego Vallieri
Senior Account Executive: Alessia Bloise
Account Executive: Giuliano Franco
Writer: Francesco Pierucci
Head of Strategy: Bruno Tecci
Strategy Supervisor: Marta Prosperi


LETTERA A TRECCANI
Hej @treccani,
for us at IKEA, there is no place more important than the home. It is the place where our vision of the world takes shape, a mini-society that prepares us for the bigger one. It is from within the home that either an egalitarian or an unequal existence can be born. For this reason, we believe that the first steps taken in fighting inequality must happen within those very four walls.
Recently, we've been reflecting on words, their use and their importance.
Starting from the most explicit, evident ones, to be condemned upon their utterance, up to the most hidden and insidious ones. The phrases that walk right through the front door and lurk under the curtain of inequality.
When it comes to household chores, we have noticed that one of the most frequently used phrases is: "Can I help?". In most cases, it is women who hear this phrase, not men.
It's an expression that seems harmless and kind. But, in reality, it subversively conveys a deeply misguided cultural norm, implying that housework is the sole responsibility of women.
We say this to you, the custodians of the Italian language, because we firmly believe in the power that language has to shape thoughts and to contribute to a cultural revolution that leads to the end of gender stereotypes.
We believe that it is really important to reflect together on the phrase "Can I help?", replacing its implicit meaning by sparking a fundamental change in our behaviours, leaving us with one thing: A beautiful question.
Source: We Are Social