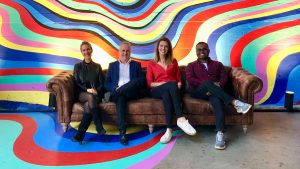 Cowan, the independent international design agency, is growing fast in Australia, with a new office opening in Sydney, a fast-expanding team, and a new client in Sanofi, the French pharmaceutical giant.
Cowan relaunched in Australia in August, responding to growing client demand for regionally-based brand design. The Cowan Australia team works with Cowan offices in Beijing, Shanghai, Singapore, Ho Chi Minh City and London to offer an integrated international service that builds on Cowan's strong track record of creating and growing consumer brands for clients that include Tesco, Johnson & Johnson, Nestlé, Danone and Coca-Cola.
The new North Sydney office has been established to better service Cowan's growing number of Sydney-based clients.
The Sydney team is led by Business Director Marion Micoud, who brings her extensive international experience to Cowan from Landor, where she was responsible for Procter & Gamble (Olay, SKII and Safeguard) Asian retail and experiential business.
Joining Marion in Sydney is Account Manager Mayeule Graff, who comes to Cowan from Unilever Australia, where she worked on the haircare portfoilio. Before that she worked with Unilever in the UK.
Kaushik S also joins the team as Senior Designer. Kaushik was previously at branding agency Anthem, where he worked on clients including Coca-Cola, Nestlé, Care Pharma, Mars, Woolworths and Dulux.
The new hires follow the recent announcement that Dominic Walsh, also formerly from Landor, has been appointed as CEO of Cowan Australia.
Dominic Walsh says: "These are exciting times for Cowan Australia. The expansion of the team boosts our growing innovations expertise which, together with our traditional skills in retail and packaging, positions us well to help marketers make the most of the growing opportunities in our region. We're also acquiring exciting new accounts such as Sanofi, working with their Consumer Healthcare division which includes brands such as Cenovis. Today's brand marketers have three pressing needs. They need to influence their points of transaction – every touch point where there is a value exchange between brands and customers. Secondly, they must understand – and become relevant to – Asian consumers. Finally, brands need agile and entrepreneurial agency support. At Cowan, we're uniquely positioned to deliver all three elements."
Source:Â Cowan