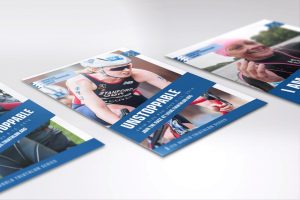 Intermarketing Agency are proud to support the 2018 World Triathlon Series (WTS) event in Leeds, on behalf of the British Triathlon Federation, with their Unstoppable campaign.
After developing an inspirational and recognisable rebrand for British Triathlon and Home Nations in 2015, the Leeds-based global agency was invited to build on the growing global profile and reputation of British Triathlon – and WTS Leeds 2018 proved to be the perfect opportunity.
The campaign conveys an empowering message: everyone can be unstoppable. While the concept needed to engage and inspire current and potential triathletes to compete, the agency wanted to reinforce the message that triathlon is a social, welcoming and, ultimately, a hugely fulfilling community – a place for anyone and everyone.
Richard Gell, Creative Director at Intermarketing Agency and a keen triathlete, is thrilled to be leading the Unstoppable campaign: "It's awesome to be able to combine my passions for both design and triathlon, and for Intermarketing Agency to play a part in developing such a fantastic sport for a really great client. Unstoppable is about crossing the start line for the first time or 50th. Unstoppable is about supporting friends and family who are taking part, and cheering on your heroes to surpass their best. Unstoppable is about making our community and sport stronger – in a city that continues to set the pace in growth, innovation, sport and creativity."
Richard and his team created a bold visual style and powerful tone of voice for Unstoppable, which the agency is delivering across multiple outdoor formats in the lead up to, and during, the event. This includes creating email and social media templates for pre-race registration and recruitment, and producing a stirring event teaser video to engage 'first timers', and people new to triathlon.
Tom Goldspink, Communications Manager at British Triathlon, said: "The team at #WTSLeeds had a great experience working with Intermarketing [Agency]. As ever, their creative powers brought our event to life in January and delivered results."
The event will receive live and highlighted coverage on the BBC. As a result, the Unstoppable campaign will not only be seen by the 50,000 spectators across the city, but will also be seen live in 19 countries, according to 2016 statistics.
And after a thrilling WTS Leeds event in 2017, which saw Alistair and Jonathan Brownlee delight the hometown crowd with a Gold and Silver performance, it seems nothing can stop the 2018 event from being the biggest one yet.
Source: Intermarketing Agency