The increasing use of mobile devices and resulting changes in consumer shopping behaviour mean that a mobile web shop is a requirement for many retailers.
Online retailers who want to survive in the market and be securely positioned for the future rely on the technology and expertise of Intershop Communications AG when implementing a successful mobile commerce strategy.
The e-commerce software and services provider's "Intershop Mobile Commerce" solution brings online stores to any mobile device, whether it's a smartphone, web-enabled mobile phone or tablet.
The benefits for online retailers are obvious: via the mobile channel they can open up new market segments, boost sales and enhance the visibility of their brand and products.
To guarantee a distinctive shopping experience on all different types of mobile devices, "Intershop Mobile Commerce" adapts page content, product data and marketing campaigns to a wide range of smartphones and tablets.
For example, content can be customised for iPhone and iPad users, while still providing an optimised user experience on Android, Windows and BlackBerry devices. Product images are automatically scaled, while videos are streamed in the appropriate formats and sizes.
For usability, Intershop's technology supports a wide range of touchscreens, keypads, scrolling devices, styluses and other navigation concepts.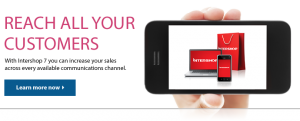 Since a good sales strategy should enable vendors to reach their customers through all potential channels, "Intershop Mobile Commerce" is not just a stand-alone application, but an integral part of the Intershop 7 platform, which allows you to replicate virtually every commerce scenario, with full customer interaction, as part of a single centralised system.
Thanks to the REST-compliant interface architecture (Representational State Transfer), online vendors using Intershop technology are well equipped for the future.
They can respond quickly and easily to ongoing developments in mobile applications and exploit the potential of this dynamic, evolving market.
Jochen Moll, member and spokesman of Intershop's board of management:
"If you want to succeed as a retailer today, you need to deliver a consistent shopping experience across all touchpoints, while adding real value for the customer. Mobile commerce now plays a key role as it helps retailers generate additional revenue and allows them to differentiate themselves in the market. Intershop Mobile Commerce is a fantastic solution that supports online retailers to implement their mobile strategy."