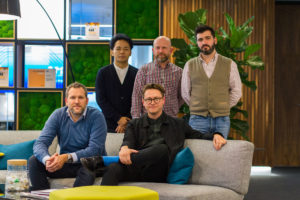 Digital agency Jellyfish has bolstered its creative offering by appointing a UK team dedicated to building its dynamic creative proposition in the UK.
Headed up by Shane Smith, who has been named head of creative production, the team also includes Joey Padasian and Pavel Krymski who join as creative display technologist and creative developer respectively.
Complementing the existing UK creative team, the trio will also work alongside the Display and Analytics teams to deliver dynamic creative experiences to clients. The appointment is also a reflection of the agency's growing relationship with DoubleClick and their DoubleClick Channel Partnership.
Reporting to Jellyfish chief creative officer Mark Deeprose, Smith brings over 15 years of industry experience to his new role. A specialist in digital creative production and online display advertising, he has worked at agencies, publishers and brands and was most recently head of creative production at Oliver. Padasian joins from Saatchi & Saatchi where he worked as a front end developer, while Krymski was a lead campaign developer at Oliver.
Mark Deeprose, CCO comments: "As brands continue to look for ways of engaging consumers with highly personalised and relevant content, it's essential that we are able to provide 'smart creative' as part of the digital marketing mix. This is a really exciting time for online advertising and Jellyfish is well placed to lead the way in this space. Shane, Joey and Pavel have all worked together in the past and I'm sure will hit the ground running in their new roles."
Source: Jellyfish