Johannes Leonardo, global creative agency of record for , took home Grand Prix at the Cannes Lions Festival in the Entertainment for Music category for "Original is Never Finished."
The campaign, led by a 90-second spot featuring Snoop Dogg, Petra Collins, Dev Hynes, Kareem Abdul-Jabar and others, also picked up five Bronze Lions, including Global Creative Effectiveness; Film Craft: Use of Licensed/Adapted Music and Production Design/Art Direction; Entertainment: Talent: Integrated. The agency and Originals took home a fifth Bronze Lion for the adidas Originals x Alexander Wang collaboration in the Media category under Integrated Talent.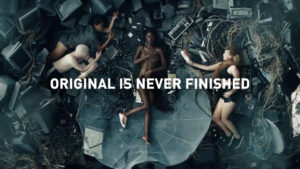 The agency also hosted a talk on the mainstage at the Grand Palais featuring Johannes Leonardo founding partner and creative director Ferdinando Verderi, adidas global creative director Paul Gaudio, fashion designer and adidas Originals collaborator Alexander Wang and former world tennis champion and namesake of the brand's bestselling shoe of all time, Stan Smith. The panel, led by Verderi, discussed the notions of originality, its role in the creative process and how brands can rally a community of creatives behind its mission.
That notion of collaboration and reinvention was the ethos behind the brand's most-awarded work of the week, "Original is Never Finished."
Entertainment for Music Jury President Olivier Robert-Murphy, global head of new business at Universal Music Group said of the campaign: "It's a mantra of creativity, and that's what the Cannes Lions is all about," he said. "It took the most overused song, and totally reinvented it. The name of the shoes is 'Originals,' and they took that [idea] and turned it into a multiplatform success. It used a new generation of creatives to really find the meaning of originality which was a perfect fit."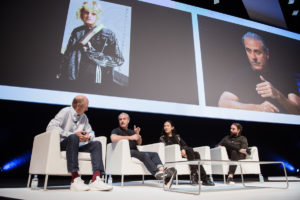 "This is an exciting and historic time for adidas Originals," said Alegra O'Hare, VP of Global Communications, adidas Originals and Style, and Cannes Lions Jury Member. "Through strength of openness with our collaborative partners, this week, we were able to pull back the curtain and reveal that we don't have all of the answers but we are willing to take risks to continue to challenge the status quo. Reworking a classic song for our brand campaign to make it feel new again and the courage to challenge what it means to be original together with the innovative way we chose to launch our new collection with Alexander Wang, only serve to validate that our momentum is catching. We are so grateful to be among the creatives who are shaping culture and to be honored by this community."
"There are endless places to put and create work these days," said Jan Jacobs and Leo Premutico, Johannes Leonardo founders, "But that should not distract from the real value an advertising agency can bring to its clients—an idea that can work as well inside the organization as it can outside, an idea that can lead culture and stand the test of time, an idea that can be measured in increased revenue. Our strikethru idea is just that. adidas is the brand for creators, so we're honored to be handed the festival of creativity's top prize."
Source:Â Johannes Leonardo