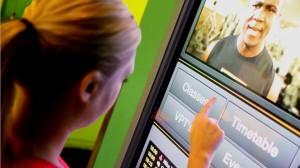 Kaleidovision, the specialist digital and music consultancy, launches a new immersive pre-sales experience for multi-award winning fitness brand Gymbox. For the first time, potential clients can get a taster of the new club opening at Victoria, with an interactive digital touchscreen which enables a 'virtual' walk-through in advance of the opening.
The new Gymbox at Victoria (opening in February, 2016), is the eighth club to open in London. The marketing suite is using 48" digital screens to bring to life the tough-talking, urban brand. The sales team can take the client on a Gymbox virtual experience to learn more about the brand from a bird's eye view of the layout and fitness areas. They can click into details of classes and even into the profiles of personal trainers.
Kaleidovision has worked with Gymbox to help communicate a totally fresh gym experience, by making it a fully digital experience (with no posters) and enhancing the urban club experience with a bespoke hard-hitting music soundtrack that puts gym goers into the right mind-set and training zone.
Digital touch points
The use of digital selling screens outside the gym reflects the use of touchscreens inside the gym, that provide notifications, show videos and provide information on classes and timetables (including the ability to book), plus show how the club looks at different times of the day (essential for new recruits to see how different the club vibe can be at 10.30am to 10.30pm). As well as providing value to users, Gymbox is able to analyse data to track interaction, such as which class is the most popular.
Curated soundtrack
Complementing the cutting-edge digital implementation, Kaleidovision's music consultants, led by head of music Aisha Nanor, have curated an original playlist to evoke London's underground club culture and champion emerging city trends. The club's soundtrack, its brand sound, was first unveiled by Gymbox a year ago and has become an essential part of the brand's gritty, urban chic personality, with local DJs often putting in an appearance to provide a live in-club experience.
Blending sound and vision
Harnessing digital innovation to improve and enhance the customer experience has been key to driving the brand's bold dynamic image. "Gymbox is an original. We've always been about breaking boundaries within the fitness industry," explains David Cooper, brand and product director at Gymbox.
"Kaleidovision has completely understood our need to do this and blended the technical know-how with creative vision and understanding of digital and music trends to bring our brand ideas to life."
Andy Pitman, Kaleidovision MD comments, "Gymbox as a brand has brilliant digital assets — including highly watchable films about a lot of their events and classes. We love the way they've placed digital right at the heart of a very slick, interactive, contemporary sales process."