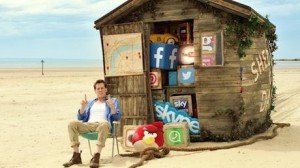 The UK's largest mobile phone operator is launching its first major campaign for its Orange brand since it debuted EE last year.
The campaign kicks off July 29, with a TV ad featuring Kevin Bacon advertising Orange's pay-as-you-go (PAYG) offering of 1GB of mobile data free with every £10 top-up, to air during top TV soap opera Coronation Street.
The ad shows Bacon dragging "a shed load of data" – which is filled with icons depicting services such as Facebook and Twitter – along a beach, marking the first time the Hollywood star has promoted Orange offerings.
The TV ads are set to run until September and will be supported by through-the-line executions which will also feature EE's aqua brand and colour, as the operator aims to demonstrate Orange and T-Mobile plans are part of the same EE offering.
EE's aqua brand colour will continue to be used for all future campaigns, according to the operator which claims to have 27 million subscribers to its network.
Spencer McHugh, EE's director of brand, says: "Kevin Bacon has been a big hit with our EE audience and he's back in this instalment of our summer campaign to help push the Orange 'shed load of data' deal.
"Orange plans are an important part of the EE offering and the new creative helps show off the amazing data deals that you can get on 3G with Orange pay-as-you-go."
The operator – which became known as Everything Everywhere in the aftermath of the 2010 merger of Orange and T-Mobile's UK arms – unveiled its EE brand in September last year.
Since then it has refrained from making its alternative brands Orange and T-Mobile the subject of major marketing campaigns in favour of pushing its EE offering.
During its last earnings call the mobile operator claimed it was on track to "exceed" its target of 1 million 4G customers by the end of this year, with its total 4G customer base numbering 687,000 as of 30 June.
Earlier in the year EE was reported to have been pursuing a £10bn initial public offering (IPO) for 2014, which many see as a possibility for the mobile operator to dispense with its Orange and T-Mobile brands.