Kia Motors (UK) Limited and Sky Media launches a new campaign to raise awareness of Kia's electric car credentials, presented solely by kids.
The six week campaign will see an all-child cast explore the benefits of electric cars in a three-minute film, asking all the questions adults are too afraid to.
The content will be available on video on demand and will be amplified through a Sky News native article, digital display and social media as well as through traditional linear TV advertising. In a Kia brand first, the campaign also includes a branded 'Sky One Presents' introduction ahead of spot advertising on the channel.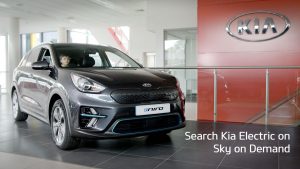 The campaign aims to develop awareness amongst families, to grow engagement and brand warmth. Kia is an innovative authority for electric cars in the UK and offers a range of alternative fuel vehicles.
Jane Fenn, Head of Brand Communications at Kia commented; "Sky Media will be the perfect partner for our brand, being able to amplify our wide range of electric and alternative fuelled models across such a broad scale of media will ensure that our electric credentials are seen by a wide range of consumers that are a sure fit within our target demographic."
The partnership was brokered by Havas with additional support by Innocean and produced by Recipe. It will run from the 19th August until the 29th September.
Source: Sky Media