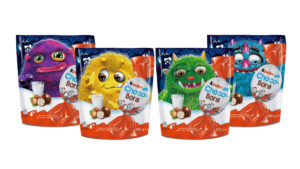 Kinder, the fastest growing kids confectionery brand, is continuing its growth momentum with the introduction of a range of monster designed Kinder Choco-Bons packs, set to capitalise on the £121m Halloween opportunity.
A spokesperson for Ferrero UK comments: "Confectionery makes up £96m of the total Halloween opportunity. What's more, the occasion represents a key seasonal peak for confectionery sharing bags. It's for this reason that we wanted to drive seasonal relevancy for our popular Kinder Choco-Bons, with the introduction of four fun and engaging monster designed bags."
Available from September the new packs will feature across the largest format in the range – the 200g pack. Each bag includes individually wrapped bite-sized chocolates – ideal for trick or treaters as well as Halloween parties.
The launch will be supported with a mass sampling programme to drive trial, with over thousands of samples, kicking off from September and a £1.1m TV advertising campaign throughout October.
Kinder Choco-Bons has been a star performer since its introduction into the UK market at the start of 2015. Kinder Choco-Bons have a soft, milky centre with crunchy hazelnut pieces with a layer of tasty milk chocolate, offering a unique flavour that's perfectly placed to be shared and enjoyed.
Source: Ferrero UK