KLM Royal Dutch Airlines is exactly one hundred years old on October 9. Founded in 1919, KLM is the first commercial airline that is still flying under its original name to reach this milestone.
A true pioneer in aviation, KLM is celebrating its centenary with a film that looks back at some of its remarkable history, while showing progress throughout the last ten decades. Underlining the evolution of aviation – and also that of society as a whole. Since KLM's first commercial flight right up until today, the company has set its sight on progress.
Throughout the years, KLM has brought the wonder of air travel to generations. The new film, created by DDB Unlimited, tells the story of three generations of the same family who worked with KLM from the early days to the present, serving and caring for passengers. 
The first two featured women are inspired to fly and become flight attendants. However, the film closes with the granddaughter of the original woman, who ends up in the cockpit, taking off, as captain of KLM's newest airplane, the Boeing 787-10 Dreamliner.
Boet Kreiken, Executive Vice President Customer Experience, KLM: "Today, we at KLM celebrate our 100th birthday, so it's a great moment in time to talk about what we really stand for. We believe in bringing people together. Caring for our passengers. On top of this we also stand for continuous progress. Progress in aviation, obviously, but also progress in a wider sense. Also, we've never forgotten the magic of flying. A magic that has been passed on through generations of customers, fans and employees."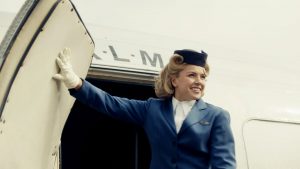 The film tracks KLM's evolution from 1919 to the present day and features classic airplanes such as the Fokker F.II in 1934, the Douglas DC-4 in 1949, Boeing 747 in 1975 and ending with the brand-new Boeing 787-10 Dreamliner. All brought to life with the authentic uniforms, props and details from each decade.
The picture-perfect period detail was created by using some of the original airplanes, building historically accurate sets and by blending archive footage with cutting edge film techniques. The film is conceived and created by KLM's long-time creative partner, DDB Unlimited. 
The team at DDB Unlimited worked closely with historians at the KLM Heritage Centre and fabled Dutch director Ismael ten Heuvel to ensure historical accuracy – paying minute attention to detail.
Esther te Pas, Managing Director at DDB Unlimited: "We are telling a universal story which ends with a twist – hinting at how society has evolved in the last hundred years. We were able to recreate the past in such fantastic and realistic detail by treating this like a period feature film. Our team at DDB Unlimited worked with the director Ismael ten Heuvel and the historians at KLM to research everything fully to ensure that every detail is spot on to truly do justice to the rich heritage and history of KLM."
There are countless real examples of entire families who have worked with KLM, careers spanning multiple generations.
One of the other ways that KLM is marking its centenary is by looking to the future. Earlier this year, the airline recently launched a global call to action on sustainable travel under the name 'Fly Responsibly'. KLM has stepped forward to ask the aviation industry as a whole to join forces to create a more sustainable future for aviation.
Source: DDB Unlimited