Lemon & Paeroa (L&P) are back and more Refreshingly Different than ever in their new campaign, Best Day Ever. Teaming up with DDB New Zealand, L&P are celebrating a humorously different view of the world by following two guys who are having the best day of their lives.
Launching this week, Best Day Ever goes against the grain of Hollywood's harsh zombie stereotype, instead choosing to show that by living differently, everyone, even zombies, can break from the norm and have fun doing it. A uniquely Kiwi campaign for an iconic New Zealand brand, Best Day Ever will inspire punters to strive for a life of freedom and fun.
Damon Stapleton, Regional Chief Creative Officer DDB NZ & AU, says the beauty of the Refreshingly Different brand platform is its ability to revisit well-trod paths in new ways, in this case injecting genuine, simple humour into the classic zombie genre with all its tropes and quirks attached.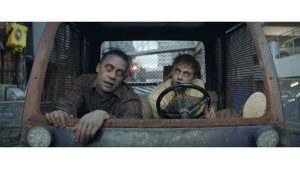 "Zombies are brilliantly fun to play with. L&P wanted to continue on from the success of On the Lamb, with that great tale of friendship, by bringing that same feeling with zombies – I think we succeeded in that. Each activity these zombie mates get up to is something we can relate to and laugh at," says Damon.
Laura Knight, Marketing Manager for L&P, says they wanted to highlight the way this brand does things a little differently. Kiwis have built up high expectations for L&P ads over the years and the team were conscious of living up to that.
"We wanted an attention grabbing campaign that celebrates our position as an iconic brand with iconic ads, by putting a new spin on our long term Refreshingly Different platform. Our two zombie friends are certainly different and having the time of their lives!," says Laura.
L&P's new campaign, Best Day Ever, will roll out across TV, cinema, social and digital channels.
Source: DDB New Zealand