LEVI'S® 501® Day celebrated the anniversary of the original blue jean – which came to be 145 years ago, on May 20th, 1873. For 2018's 501 Day, Levi's celebrated the stories of people who make the 501 their own, showing that we are all collaborators with the brand.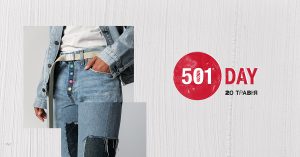 The month of May has been a social celebration of fans and influencers who have collaborated with Levi's by customising and personalising their 501 jeans.
Levi's hosted activations around the world including customisation workshops in Europe, musical performances in the US, Brazil, Thailand and India, and influencer collaborations, including special 501 jeans made by Chinese designer Feng Chen Wang.
AKQA supported the strategic foundation on which 501® Day was built, designing the creative campaign and look of 501 Day, which was executed globally through social, digital, retail and experiential channels.
 Source: AKQA