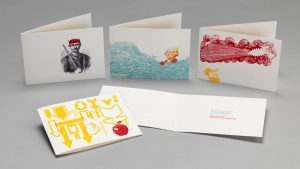 Customer agency LIDA, part of the M&C Saatchi Group, has created a range of Christmas cards celebrating milestones that share their anniversary with Christmas Day.
As each of the events happened on the 25th December, from the crowning of William the Conqueror (1066) to the first sighting of Halley's Comet (1682), their anniversary often slips by unnoticed.
The range of cards includes local milestones such as DirtyDen divorcing Angie Watts in EastEnders (1986), and Washington's crossing of the Delaware (1776). Each card carries the greeting: "Merry Christmas. Whatever you're celebrating."
The launch tops off a year in which LIDA has appointed a new Chief Creative Officer, Ben Golik and a new CEO, Jonathan Goodman, as well as picking up a raft of new accounts.
Ben Golik, Chief Creative Officer, LIDA said of the series, "We didn't want to make an agency Christmas card with self-aggrandising branding. The brief was to make a card that someone might choose to buy in a card shop, or actually welcome receiving."
Mark Dickens, Art Director, LIDA added, "At LIDA, we like to find the moments others miss and use those to tell unexpected stories. Plus, we love that this range of cards feels naturally inclusive with its pay-off line 'Whatever you're celebrating'."
Source: LIDA