LinkedIn will debut its first TV commercial during the Academy Awards on February 28.
With the campaign, "You're Closer Than You Think," LinkedIn is looking to show how the platform can help everyone reach their potential.
The commercial, which includes a voiceover by LinkedIn CEO Jeff Weiner, grew out of NASA's decision in 2015 to use LinkedIn to seek potential recruits for its astronaut program. LinkedIn found that a surprising 3 million members of the platform in the US qualified for the openings.
"We saw the astronaut as a universal symbol of the dream job and anchoring the campaign around that story would bring it to life," Nick Bartle, VP-marketing, said via email.
The campaign is one of the first major marketing efforts by the company since combining its public relations and marketing teams into one unit. LinkedIn promoted corporate communications chief Shannon Stubo to chief marketing officer in June and hired Mr. Bartle from Apple in September.
"'You're Closer Than You Think' is LinkedIn's first-ever integrated marketing campaign and TV spot that's inspired by LinkedIn's vision to create economic opportunity for the global workforce," Mr. Bartle said.
"We want this to permeate in everything we do, including helping our members find jobs, learn from influential people, build their professional brand and connect with people who can make a difference in their path."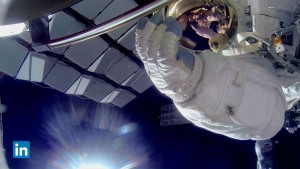 The campaign was created in conjunction with BBDO San Francisco, while Spark handled the media buy.
LinkedIn plans to execute more broad brand campaigns, focusing on "fewer, more impactful initiatives that speak to universal member needs and leverage the best way to reach them," Mr. Bartle said.
"The Oscars seemed like the right place to kick-off its TV marketing due to its broad reach. We believe that everyone should pursue the biggest goals imaginable," he said. "There are moments when those accomplishments are celebrated, and we believe the Oscars is one of those moments."
With nominations for "The Martian" and its star, Matt Damon, Mr. Bartle said the night would give its NASA-themed ad even more impact. Aside from the Oscars, the commercial will air on TV shows including "Jimmy Kimmel Live," "Shark Tank" and "Fresh off the Boat."
LinkedIn has needed a moral boost in recent months, after its stock lost nearly half of its value in February following its fourth-quarter earnings report.