M&C Saatchi London and Pernod Ricard's Havana Club have developed a new global communication strategy for the Cuban rum brand spearheaded by the idea 'Cuba Made Me' that aligns the brand with Havana's raw street culture. The campaign is designed to attract a new breed of young urban rum drinkers across Europe.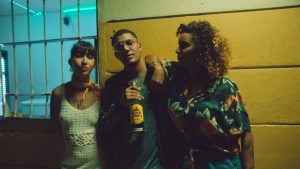 As an authentically Cuban rum brand, Havana Club is ubiquitous in and around the streets of Havana. To help with audience appeal and a desire to convey a more authentic and gritty aspirational aesthetic, the campaign distances itself from the tourism clichés of beaches, vintage cars and salsa and instead focuses on the young Cubans uniquely shaped by Havana, its culture and its streets.
Launching in Germany this spring 'Cuba Made Me' portrays Cuba's young and creative street artists, dancers and bartenders as the main protagonists. The fully integrated campaign is planned to run throughout the summer with the ambition to roll out to other European markets later in the year.
The campaign will launch with a :20s TV spot, and will then expand on themes in the TVC through a series of online and social activity featuring the young street Cubans and exploring Cuban streetstyle, streetart, streetfood, club and bar scenes.
The campaign will be supported in owned channels including cuba-made-me.de, Facebook and Instagram with the campaign hashtag #CubaMadeMe intended to encourage further audience engagement. The idea will be activated Germany-wide with events and experiential activity at on and off trade outlets.
Jeremy Hemmings, Chief Client Officer at M&C Saatchi said: "Many brands aspire to associate themselves with gritty, urban street culture, but few have the credibility to pull it off. Havana Club is ubiquitous throughout Havana – in the bars, clubs and streets, so you could say that this campaign is as authentic as you get."
Ludmilla Stephkov, International Brand Director at Havana Club said: "We want to recruit a new, younger urban audience for the brand and portraying the unique street culture of Havana is a wonderful way of doing this. We are very excited and proud to be launching our edgy new Cuba Made Me campaign in Germany."
Source: M&C Saatchi London