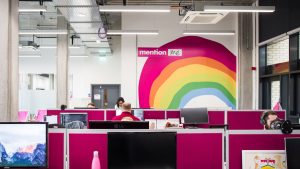 Referral marketing technology business Mention Me, announces a raft of senior appointments across the business, following their Series A funding raise of $7M in 2018 with Eight Roads Ventures.
The team are focussing on accelerated growth in the UK, international expansion in the US and Europe, new strategic partnerships and the release of new products.
Mention Me's market leading SaaS platform gives brands the right tools to maximise new customer acquisition through referrals and word of mouth. Having grown from a team of 15 employees in 2015 to over 80 today, the business now works with over 350 brands including Farfetch, Diesel, OVO Energy, Ted Baker and ZipCar, operating in 16 languages.
To support accelerated growth of the business and leadership in data protection best practice, as well as meeting regulatory and compliance requirements globally, Gavin Walles joins as Head of Legal, from YouView TV Limited, where he was Senior Solicitor and Head of Risk. Gavin brings 12 years experience specialising in SaaS, commercial law and data protection, having previously held legal roles at hibu, Virgin Active and Amazon.
Robert Thorogood joins as Finance Director, having spent six years working with high growth, international, technology-based private equity and venture capital backed SMEs, including former Tech Track 100 company Forward Internet Group who he joined from BDO's corporate finance team.
Speaking three languages and with 24 years of HR experience in fast-growing international companies, Valerie Mann joins Mention Me as Head of People. Overseeing accelerated growth of the team, Valerie joins most recently from HomeAway where she was HR Director EMEA. Previous roles include EMEA HR Manager for RSA and European HR Officer for Sotheby's.
2019 will see Mention Me set its sights on European and US expansion, having just launched their presence at Shoptalk in Las Vegas and through sponsorship of the Glossy Summit in Miami in May. Already working with brands such as Cole Haan, MATCHESFASHION, Scotch and Soda, Feelunique, Remarkable and Diesel, the business has plans to expand their reach outside of retail.
To maintain their position as the category market leader on the global stage, and provide their clients with greater reach and proof with their campaigns, Mention Me will soon be announcing the launch of a new product designed to capitalise on customer trust and loyalty.
Andy Cockburn, CEO of Mention Me comments, "In 2019 we'll be firing on all cylinders channeling dramatic growth across the team, clients, geography and product; and our three new senior leaders are essential to enable this. We're excited that we're now at the point where we can move boldly forward, building a reputation in new continents and developing new products to enhance our proposition and platform."
Source: Mention Me