Metia Group, a global B2B marketing agency, has launched the New Truths for Brands Study 2017.
The study was announced by Misia Tramp, Vice President, Customer Experience Strategy and Insight, Metia Group, during her keynote presentation at Brandwatch's Now You Know (NYK) conference. NYK is a two-day conference held in London, 17-18 October and attended by many of the world's leading brands.
During Misia's presentation on "Social truths: Revealing what truly matters to customers" she announced key findings from the New Truths for Brands Study 2017, a behavioral blueprint designed to enable brands to build trust among contemporary consumers.
The research was conducted by Metia's Insight and Strategy group and reflects the views of 3,813 US consumers aged 24 – 65 who worked together as a community to provide a new consumer perspective on what brands need to know about their customers.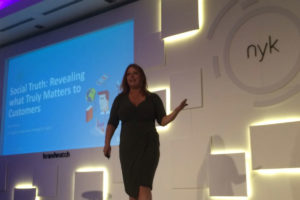 Misia commented: "Consumers' level of trust in brands is shifting. This is an enormous threat to established brands. The ten new truths revealed in this study provide impactful ways for brands to better understand their customers, helping to build their reputation and develop a foundation of mutual trust."
To learn about the ten new truths, the report can be downloaded here.
Andrew Martin, CEO Metia Group, adds, "Loyalty, trust and authenticity are topics that our clients need to better understand. While many brands recognize there is a problem surrounding trust, few have actionable insight into the source of the issue and what they can do to address it. The New Truths for Brands Study 2017 offers businesses the sort of practical guidance they value most highly."
The Brandwatch NYK conference attracts many of the world's biggest companies and brands to learn about innovations in social intelligence, social listening, and analytics. Speakers and panelists attending come from some of the biggest brands and agencies, including Twitter, Nestle, BBC, 3M, Microsoft and Capita.
Source: Metia Group