Moonpig, the online occasions retailer, is launching a campaign to showcase its range of personalised cards and gifts for Mother's Day.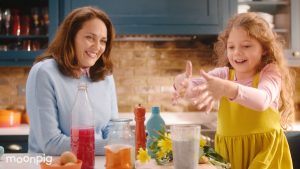 Created by Quiet Storm, the campaign is the latest since the agency won the account last year and introduced the "Share A Moment, Share A Moonpig" creative platform.
Highlighting that there's "More for Mum at Moonpig", the campaign broke on 21st February ahead of Mother's Day on 11th March. It features two 30-second TV executions, "Gin" and "V&A", and cut down 10-second versions, running across ITV, Channel 4, Five and Sky channels.
The ads show that, while every mum loves flowers on Mother's Day, Moonpig's products make this Mother's Day even more special due to its great range of personalised cards, special gifts, and fantastic flowers.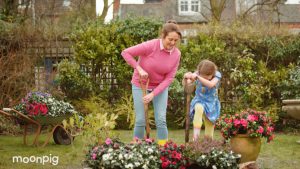 Quiet Storm's creative shows daughter Amy and her mum sharing a magical moment that triggers some great memories as Amy presents a personalised card and inspired gift, in one ad a bottle of gin and in the other a V&A garden tool set, all topped off with a delightful bouquet.
Trevor Robinson OBE, founder and Executive Director of Quiet Storm, said: "We have loved being a part of Moonpig's brand relaunch and repositioning, this execution reiterates the idea that the best gifts are those that are inspired from memories you've shared. We think the end result looks great and are pleased to have another consistent and recognisable addition to the campaign."
Credits:
Agency: Quiet Storm
Creative Director: Trevor Robinson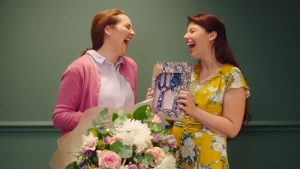 Art Director: Seb Jamous
Copywriter: Harry Iddon
Account Director: Tanya Faulkner & Claire Peacock
Agency Producer: Daniel Healy
Director/Production Co: Trevor Robinson
Producer: Daniel Healy
Editor & Post Production: David Owen
Sound Design: Dave Robinson – Angell Sound
Typographer: Ian Wilmer
DoP: Dan Holland
Source: Quiet Storm