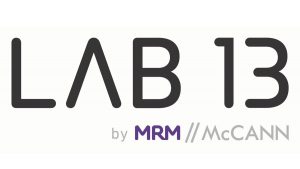 Leading global digital customer relationship agency MRM//McCann announced that it is launching its latest LAB13 innovation lab at McCann Manchester's offices.
LAB13 is a state-of-the-art home for creative technology that will enable the agency to invent, architect and prototype unprecedented products, services and new businesses, looking 12 to 18 months ahead of market.
"We are committed to expanding our innovation offerings across our network, and this latest LAB13 is an important part of that growth," said Kate MacNevin, MRM//McCann Global Chief Executive Officer. "MRM//McCann was one of the first agencies to intertwine the process of thinking and making at this level, enabling us to offer our clients unprecedented products and services and even further elevating us above our competition." 
This is the fourth LAB13 to open across the MRM//McCann global network, with others already up and running in Detroit, New York, Tokyo and Frankfurt. The UK LAB13 will specialise in augmented reality (AR), virtual reality (VR) and mixed reality experiences, prototypes and story creation.
Its offerings will include innovation consulting, rapid prototyping, user research, tooltime education, content studio and CGI. It includes a collaboration space, innovation workshop and a hands-on tech area where clients can experience the latest in AR, VR, mixed reality and mobile handsets.
The UK LAB13 will also feature MRM//McCann's HumanTech innovation offering, where agency, client and outside experts work together to rapidly generate ideas for tech-based solutions to help solve specific business challenges, building prototypes and testing them through a design engineering process.
Mark Lund, Chief Executive UK, McCann Worldgroup, said, "We believe innovation sits at the intersection of human, brand, and technology. We identify the human needs that we can serve meaningfully and then apply our understanding of technology to create a revelatory solution. In this way, we help our brands earn their meaningful role via innovations that deliver. We call this Meaningful Innovation."
"The UK LAB13 by MRM//McCann will be powered by our unique innovation process, DIVE: Discover, Invent, Validate and Experience," said Dominik Heinrich, MRM//McCann VP Global, Product Innovation & LAB13. "This way of working allows us to move from insights into human behaviour and translate these into solutions that are well ahead of the innovation curve, validating them as prototypes through experience testing."
UK LAB13 is available for use by new and existing clients of MRM//McCann, McCann Worldgroup and IPG.
Source: MRM//McCann