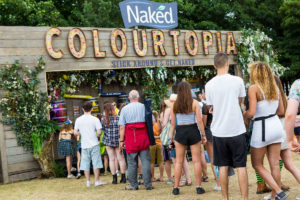 Naked Juice is inviting visitors to Festival No.6 to step into Colourtopia and experience a unique space full of possibilities, powered by its products.
Naked Juice is building on the success of engaging festival-goers in 2016 to drive trial and awareness of its smoothies and the weird and wonderful spirit of its brand by adding another festival to its series this summer.
Under the banner of Naked Juice's "Power. Full. Smoothie" positioning, attendees of Festival No.6, taking place in Portmeirion, Wales, from 7-10 September, will be encouraged to try Naked's different smoothies before being welcomed into Colourtopia.
Starting as a stark white wilderness full of interesting sculptures, Naked Juice puts the power of colour and creativity into the hands of festival-goers, prompting them to create a vibrant, dynamic environment filled with positive, feel-good energy.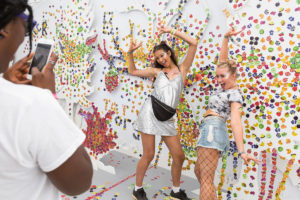 Armed with a Naked smoothie and colourful, fruity stickers that reflect the ingredients of the smoothies, people will be allowed to go wild with colour, simultaneously demonstrating the true power of its vitamin-packed drinks range.
With a communal atmosphere and creative vibe, the boutique Welsh festival was selected as a natural fit for the third instalment of the live engagement campaign as it prioritises creativity; while the audience of 25-40-year-old dynamic doers mirrors Naked's. Colourtopia also delighted visitors at Latitude (12-15 July) and Wilderness (3-6 August) festivals this summer.
Danielle Mendham, Brand Manager at Naked Juice, said: "At Naked, we are dedicated to creating the best-tasting smoothies made from the most delicious ingredients and nutritional boosts. There's no better place for people to get to know our brand and experience 'the Power. Full. Smoothie' than at a festival. Integrated agency Initials' work on Colourtopia embodies the imaginative, adventurous spirit of the brand, providing festival-goers with an engaging environment in which to get creative and colourful, while driving brand awareness and purchase."
Source: Naked Juice