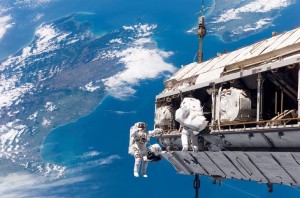 NASA is embracing the smartwatch revolution by opening a free for all design competition in which the public are invited to create an app for Samsung Gear 2 wearing astronauts on the International Space Station.
Hosted via Freelancer.com the initiative will offer the creator of the best app a cash prize of $1,500 with the brief calling for a tool to help astronauts stay organised and safe in their orbital environment.
This will necessitate bread and butter functionality such as the display of calendars and agendas as well as more specialised tasks such as alerting the wearer to the presence of space debris and the need to seek shelter.
Agency officials will also require the app to let astronauts know when they are in a position to contact ground control.
Ideas for the new tool are being invited in the form of pictures representing the navigation, interaction, layout, look and feel of the proposed solution.