CP+B London has launched a new campaign for Turkish Airlines, starring football star Dider Drogba. Entitled "How Do You Make A Didier", it condenses the busy life story of Didier Drogba into 60 seconds to showcase how travel has made him the man he is today.
Drogba has travelled and lived everywhere from his native Ivory Coast to Marseille, from London to Paris, from Beijing to Turkey. Each country has contributed to shape his character, turning him into the successful businessman, philanthropist, style icon, family man and of course brilliant footballer he is today.
Says Rafet Fatih Özgür, Advertising Manager Turkish Airlines: "Didier Drogba played for Galatasaray, so he is really popular in Turkey, but the main reason we love him is that he is the perfect example of our airline's philosophy, that every place you go changes you and makes you a better person."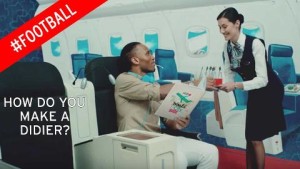 The ad ends with the lines "Where you go is who you are" and "Widen Your World", which encapsulate Turkish Airlines' strategy to appeal to the culturally curious across the globe, and encourage them to fly to new destinations.
It is the latest in Turkish Airlines' blockbuster "Widen Your World" TV ads, which feature global stars around the world – one of which was recently voted "YouTube Ad of the Decade". The previous Turkish Airlines ad featuring Didier Drogba was viewed over 60 million times on YouTube.
The film was shot by Richard Bullock of Hungryman. He introduced a handmade painted approach to the set design, as a nod to the west African murals that can be found in Didier's hometown of Abidjan, using it to illustrate the most significant places in Didier's life. The sets were hand-painted by Steve Summersgill.