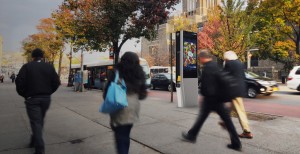 The City of New York, in partnership with technology consortium CityBridge, has announced ambitious plans to replace 7,500 existing payphones with wi-fi hotspots around the city, providing locals and tourists with free, superfast connectivity.
The LinkNYC project emerged from a call for proposals made by Mayor Bill de Blasio's administration in 2014, looking for ways to repurpose the outdated payphone infrastructure with free wi-fi.
CityBridge, which is made up of a variety of experts in mobile technology and connectivity including Qualcomm, Intersection and CIVIQ Smartscapes, successfully won the pitch with their idea for LinkNYC, which will begin its beta phase in the next few months.
The 7,500 kiosks will use a new, purpose-built fibre optic network to deliver speeds up to 100 times faster than the average public wi-fi, with CityBridge investing over $200m (£136m) in installation costs.
The kiosks will also provide free phone calls to anywhere in the US and include an Android-based tablet that will provide free internet access, as well as access to City services, maps and directions, with additional apps and services to be rolled out in the future.
The initiative will be paid for using a digital OOH advertising network integrated into the kiosks, providing brands with a rich, context-aware platform to reach New Yorkers and tourists. Ad revenues are expected to exceed $500m in the first few years of the project.