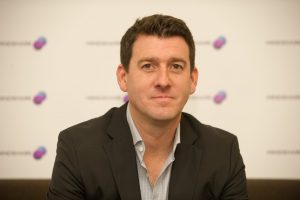 News UK announces it has appointed Norm Johnston, Global CEO of Mindshare FAST and Mindshare's Global Chief Digital Officer, as CEO of Unruly.
Johnston will replace outgoing CEO and co-founder Sarah Wood, who announced in October she will be taking up the role of Non-Executive Chair of Unruly's Board of Directors. Based in London, Johnston will report to Rebekah Brooks, CEO of News UK, which acquired Unruly in 2015.
Unruly helps the world's biggest advertisers engage global audiences by harnessing the power of its data-powered video marketplace, UnrulyX, on brand-safe, premium sites, while helping top publishers better monetise their audiences.
Commenting on the appointment, Rebekah Brooks said: "Norm's data-driven approach and deep understanding of marketers' requirements will be invaluable to Unruly clients and the wider News Corp business. He's a programmatic pioneer with truly global experience and I'm very much looking forward to working with him as we build on the milestones that Unruly has already achieved. I am deeply grateful to Sarah Wood and to her co-founders, Scott Button and Matt Cooke, for their commitment to transforming advertising for the better. They have built Unruly into a scaled and trusted advertising platform and I look forward to Sarah chairing the Unruly board and continuing to bring her passion and vision to the table."
Robert Thomson, Chief Executive of News Corp, said: "Our priority is to maximise our formidable digital advertising capabilities, and Norm will play a pivotal role in the development of a global ad platform, as well as being a thoughtful, creative and contemporary partner for our clients. With Sarah as Chair, we will have cultural continuity at a time of upheaval in the ad market, which has been polluted by unreliable content and become, in part, a valley of the bots."

Norm Johnston, incoming CEO of Unruly, said: "I'm really excited to be leading Unruly through the next chapter in its incredible journey. It's a company with its own vibrant culture and great potential in a fast-moving marketplace. Throughout my career I've cared passionately about creativity and innovation within the media industry, and nowhere is that drive more apparent that at Unruly. The ad industry needs leaders like Unruly. From its breakthrough ad formats and phenomenal premium media footprint to its fierce commitment to brand safety and unique first-party data solutions, Unruly has led the way. When you combine all these ingredients with the passionate determination of Unrulies around the world, you have a company with unlimited potential for innovation and impact. I am looking forward to working with the teams around the world, as well as colleagues across News Corp, and I can't wait to get started."
Co-founder Sarah Wood, who helped lead the search for her successor alongside the Unruly board, said: "As a digital innovator and stellar commercial exec, Norm is brilliantly positioned to continue scaling Unruly as it unlocks the potential of its first-party data, leads the way on programmatic brand safety and leverages the media scale and rich data of other News Corp businesses. Unruly is unique in terms of product, culture and people, and there is no one else I'd rather entrust the company to."
Johnston has been involved in digital marketing since its birth in the 1990s, when he joined the industry's first digital agency, Modem Media, which revolutionised the ad industry by placing the first-ever banner ad. In 1997, Norm launched Modem Media UK, one of Britain's first and most successful digital agencies.
After Modem was acquired by Publicis in 2007, Norm joined WPP and GroupM's Mindshare, and is currently the Global Chief Digital Officer, as well as the Global CEO of its FAST business unit, a team of over 2,000 staff in 115 cities around the world delivering ground-breaking work for global clients such as Unilever, Nestle, Jaguar Land Rover, and American Express. Norm, a double-winner of WPP's prestigious Atticus Award, has also written two books on digital marketing.
Source: Unruly