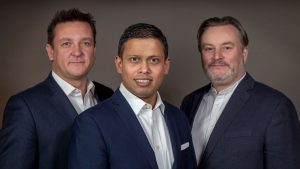 Independent corporate affairs consultancy, Nudge Factory has appointed Kevin Davis and Jason MacKenzie as Managing Partners of its Local Government and Corporate Communications practices, respectively.
MacKenzie was President of the Chartered Institute of Public Relations in 2017, and Davis is the Leader of the Opposition at Kingston Council.
MacKenzie led the CIPR to improved financial performance and growth in member acquisition and retention rates and is former managing director of both Curzon PR and Liquid. He has been a senior PR professional for the past decade, following a career in journalism and marketing. He has worked across disciplines from soft power to reputation campaigning, and with clients from multinational corporations to foreign governments.
Davis founded his own communications company from which he stood down upon becoming Council Leader in the Royal Borough of Kingston-upon-Thames for the second time in 2014. He has held a number of other roles in politics including running for Parliament. Davis has also been chief executive of both commercial and charitable organisations.
First elected as a councillor in 1998, he has over two decades of knowledge in local politics. Subscribing to the view that 'all politics is local', Davis gives advice on how to navigate the political landscape surrounding regeneration, planning policy and engagement, in addition to all other areas of local government.
Nudge Factory Senior Partner, Az Chowdhury said: "We're developing Nudge Factory's practices as part of our growth plan, and securing Jason and Kevin as managing partners will expand the business and provide a breadth of senior counsel to our clients. We anticipate 2019 being a year of significant growth, as we evolve our proposition based on experience, expertise and insights."
MacKenzie noted: "Applying behavioural insights gives Nudge Factory's approach a distinct leadership advantage when it comes to corporate communications. I'm impressed by our persuasive, results-driven methodology and I'm looking forward to working to grow our influence and reach."
Davis added: "Nudge Factory's local government practice has a strong foundation, but there are vast opportunities for rapid expansion throughout London and beyond. We have a unique and compelling proposition, a great reputation and talented team. I'm glad to be driving the growth of this practice in a thriving company."
Source: Nudge Factory