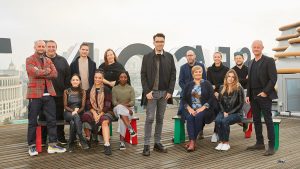 Ogilvy UK revealed a completely transformed creative leadership team and structure, bringing to life the agency's mission to serve as an integrated creative network that Makes Brands Matter. The new creative team will establish a collaborative community of experts, operating in a flatter, more nimble structure across the agency's capabilities and crafts.
Setting the creative agenda is newly-appointed Chief Creative Officer, André Laurentino, better known as Dede. Throughout his career, Laurentino has led multi-disciplinary teams to produce award-winning work for Volkswagen, Audi, Nissan, adidas, GSK, Visa, Dove, Comfort, Hellmann's and many others. He has won over 30 Cannes Lions, as well as D&AD and The One Show pencils either as art director, copywriter or ECD. In addition to this body of work, Dede has also published two books (a novel and a collection of essays) and has written two hit TV series. Responsible for setting the creative vision for the UK business, he will report directly to Ogilvy UK Chief Executive Michael Frohlich.
Laurentino will also continue with his role as global lead on Dove, an iconic brand for both Unilever and Ogilvy.
"Problem solving is our core, and creativity is our soul", says Laurentino. And to bring a truly media-neutral approach to problem solving, all creatives from the many Ogilvy capabilities will sit together in one group. This will allow creatives with many different specialisms to freely collaborate, which will lead to bigger and more innovative ideas. This is what matters to clients. It's what gives them a competitive advantage.
As part of the agile structure, the ECDs will have much more power and autonomy over budgets, resourcing and creative outputs. They will be ultimately accountable for the decisions they make and the work they produce. This is only possible when the senior creative leadership is the very best in every capability, all under the same roof. The new structure provides the opportunity for the best creative talent to thrive, hailing from a diverse array of skills, backgrounds and experiences to produce better creative outputs. Ultimately, bringing together a mix of perspectives makes better work for clients and the industry.
Michael Frohlich, Chief Executive, Ogilvy UK, said: "Today's environment requires empowered, agile, multidisciplinary teams that can react to the real-time, changing demands of our clients. Our transformational strategy is focused on delivering game-changing and effective creative solutions that will define the future of our industry. Change is never easy, but creativity remains the beating heart of our business, a constant across all our capabilities and crafts. Ogilvy is an agency built on 'experimentation with ideas, governed by intuitive hunches' to quote our founder, David Ogilvy. If we are not bold enough to try new things and dare to operate differently, nothing will change."
André (Dede) Laurentino, Chief Creative Officer, Ogilvy UK, said: "It is an incredible honour to be at the helm of a creative powerhouse like Ogilvy in the UK. We'll completely strip back the separation across the agency, making Ogilvy's creative offering seamlessly integrated and, what's even more critical, truly open and collaborative. The ECDs of Ogilvy UK will be further empowered, with even more creative say and autonomy. Clients are changing, the marketplace is changing and the breed of creative is changing. Our new proposition ensures creativity is felt at every level of the business. Exciting times lie ahead."
Source:Â Ogilvy UK