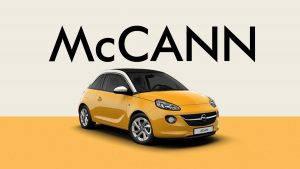 Opel will soon have a new agency: as of January 1, 2019, McCann will be the European creative agency of the German carmaker.
"We are looking forward to working with McCann", says Tobias Gubitz, Director Brand Strategy and Marketing Communications at Opel/Vauxhall. "Our new partner has a European network of top creatives. The decision also creates efficiencies, since McCann is already working for our British sister brand, Vauxhall. This helps us to implement a pan-European strategy – with a strong focus on the values of each brand."
In recent months Opel has further defined the brand and sharpened the values "German", "approachable" and "exciting". From next year – the 120th anniversary of car production at Opel – the focus will again be more on the cars, for example when the new Corsa and new Vivaro are introduced.
"We are excited to build a new European agency team based in Frankfurt for an iconic leading German brand," says Pablo Walker, President Europe McCann Worldgroup.
Tobias Gubitz also thanked the previous partners for their work.
"Scholz & Friends and Heimat have been very reliable partners in recent years, we have enjoyed the successful cooperation with them. In particular, Scholz & Friends has been helping to create a new awareness of the Opel brand since 2010 – including the successful creation and implementation of the brand campaign, 'Umparken im Kopf', the brand slogan 'The future is everyone's' and award-winning campaigns for the Corsa, Mokka X, Astra and Insignia. Heimat has been supporting us since 2017 and most recently created the Combo campaign."
Source: McCann