Oreo believes that, if we begin to open ourselves up, we'll make more meaningful connections and discover that we have more in common than we think.
That's the premise of a new global push from the Mondelez-owned cookie brand, called 'Open Up With Oreo', according to its global brand director Jennifer Hull.
Children being apparently more open than adults, the animated centrepiece ad for the campaign features a young girl offering an Oreo to an older girl. When the latter opens up the cookie, the animation uses the Oreo's white filling to transport us to a roller rink.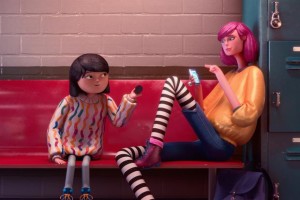 The scene is accompanied by a song performed by Grammy-nominated recording artist Adam Lambert, at least in the US version, which broke January 18.
The song features the lyrics: "I wonder if we could/Remember how good/It felt to wonder/When we were younger/Everybody let's go, Oreo/Ore-o-pen up your wonder/Show, let it show/Don't let them keep it under."
The ad will run in more than 50 countries in the first half of this year, with vocals, lyrics and languages adapted by territory.
In addition, Oreo will start a video series on February 2 that demonstrates "how an Oreo cookie can open an unexpected introduction, even a friendship, between two characters from separate walks of life."